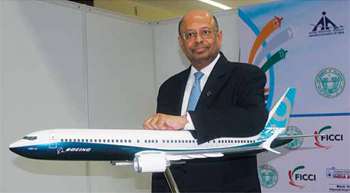 Dinesh Keskar, Senior Vice President, Asia Pacific & India Sales, Boeing
The US aerospace behemoth Boeing is on a roll in India. It has a backlog of 97 aircraft to be delivered in India, 75 to Jet Airways; 19 to Air India and three to Spicejet. These commitments will be fulfilled soon as Boeing sees an upward swing in market sentiments and airlines returning to profitability in India.
Stating this at the media briefing on Boeing's market update at India Aviation, Hyderabad, the Boeing Senior Vice President, Asia Pacific & India Sales, Dr. Dinesh Keskar said the company was in sync with the government which wanted the airframers to create an eco-system while selling an aircraft in India. The eco-system consisted of setting up or helping setting up of a maintenance, repair and overhaul (MRO) facility; training and simulation support; and facilitating leasing options for buyers. Boeing has done all of these – helped set up the MRO unit for Air India in Nagpur; has training and simulation facility and connects buyers to lessors.
Reiterating Boeing's market update for India, he said, the projected demand for new planes is 1740 valued at 240 billion USD. Single aisle aircraft in which Boeing had a strong hold would comprise 84 per cent (1,460) single aisle jets; 15 per cent (260) wide body jets; and one per cent (20) regional jets.
Expressing satisfaction at the way the market in India was moving, he said that increased traffic, reduction in operating costs and fare discipline will drive profitability in Indian aviation. The India domestic passenger traffic is at the highest levels with over 80 million domestic passengers having flown in 2015. So also the capacity discipline is strengthening (2014 vs 2015). The domestic load factor increased from 76.4 per cent to 82.5 per cent. The RPKs (revenue per kilometres) was up 21 per cent and there was an increase of 9 per cent in ASKs.
The contributing factors for this growth were fuel prices which had come down drastically and the exchange rate which continues to drive airline operating costs and return to profitability. So also a relatively stable rupee with decreasing fuel prices reduced break-even fares and Landing and Navigation fees growing proportion of operating cost.; and increased fare discipline is required to continue to industry grow profitability.