Minister of Civil Aviation launches brochure
States that it would be a reference point on civil aviation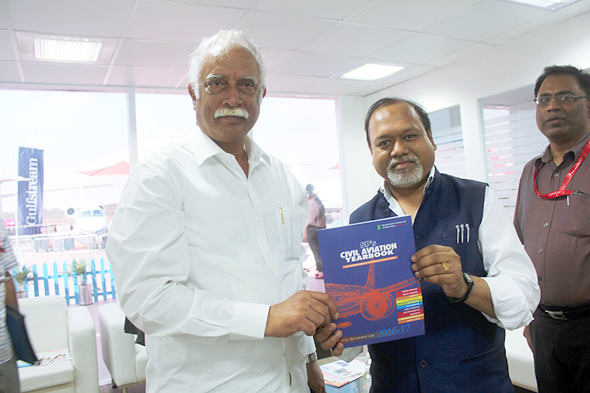 Push to the Cause of Civil Aviation: Minister of Civil Aviation P. Ashok Gajapathi Rajureleases the brochure of SP's Civil Aviation Yearbook, a new initiative on the part of SP Guide Publications, which wil work towards filing the vacuum of a reference source for the civil aviation industry. The Minister had noted that a reference document wil be of use at this point of time. V. Apa Rao, OSD to the minister is also seen.
That the Indian civil aviation sector is gathering momentum and racing towards becoming the third largest civil aviation market is well-known. However, while the ecosystem is getting created by different stakeholders, there still exists a huge gap in information on the sector. While there is information in different media, there is no comprehensive reference book on the state of Indian civil aviation, be it to do with airlines, be it air cargo, be it the airports, be it MRO, be it manufacturing, et al.
This gap is going to be filled up by SP's Civil Aviation Yearbook from the house of SP Guide Publications which has been in the niche sector of aerospace and defence publishing for over 50 years.
The ball was set rolling for the launch of SP's Civil Aviation Yearbook by the Minister of Civil Aviation, P. Ashok Gajapathi Raju who has categorically stated that the sector needs all the information, encouragement and engagement.
INFORMATION ON ALL SEGMENTS
SP's Civil Aviation Yearbook will be one of its kind, providing in-depth information on sectors. It will have distinct sections such as civil aviation – intelligence and trends simplified; business and general aviation in India; airports development; Indian MRO markets; Indian cargo markets and regulatory issues of India.
SP's Civil Aviation Yearbook will present the most effective platform to reach thought leaders, policy makers and decision takers in the airlines, airports and the government along with the industry. With its rich content and holistic insights garnered from the opinions and perspectives of experts in the field, it will be a veritable treasure-trove of accurate, relevant and indispensable information.
SP's Civil Aviation Yearbook will be the most effective platform to reach the flag bearers in the ministries, regulators, aircraft manufacturers, aircraft operators, airports, cargo companies and all associated aviation companies and aircraft users.