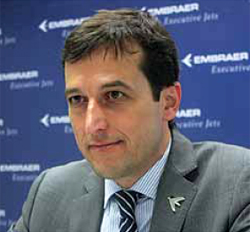 Claudio Camelier
Embraer Executive Jets which announced sale of Phenom 100E to an undisclosed customer in India but to be managed by Titan Aviation group, is excited about the Indian market. The Vice President (Sales) Middle East and Asia Pacific, Claudio Camelier told a press conference at India Aviation that the company was satisified with the performance in India, but would strive to do better, though the market conditions were not favourable worldwide.
Camelier said that the sales could be similar to that of last year, but did not disclose what the number was. The global momentum would pick up on recovery of the US economy. In India, he added, the sentiments were favourable and hoped that the push for regional connectivity would help business aviation too. The company has a 33 per cent market share across all business jets.
Phenom 100E
Giving details of the aircraft that are being showcased at India Aviation, Camelier said the Phenom 100E has a four-occupant range of 1,178 nautical miles (2,182 km), with NBAA IFR reserves. With a high speed cruise of 390 knots, the Phenom 100E is one of the fastest jets in its class, with operating costs comparable to that of leading turbo-prop aircraft. Also, he mentioned that it is proven pilot training jet and was cost-effective and had low maintenance costs.
Phenom 300
The most delivered aircraft in the industry for the last three years: the Phenom 300 performs among the top light jets, with a high speed cruise of 453 knots and a six-occupant range of 1,971 nautical miles (3,650 km) with NBAA IFR reserves. This range allows nonstop flights from New Delhi to Bangkok for example. With the best climb and field performance in its class, the Phenom 300 costs less to operate and maintain than its peers. The aircraft is capable of flying at 45,000 feet (13,716 meters), powered by two Pratt & Whitney Canada PW535E engines with 3,200 pounds of thrust each. He said it had sales of 60 units in 2013; 73 in 2014 and 70 in 2015.
Legacy 450
The Legacy 450 is a mid-light business jet with a best-in-class 6-foot tall, flat-floor cabin. Four fully reclining club seats may be berthed into two beds for complete rest in a 6,000-ft cabin altitude. The optional in-flight entertainment system consists of a high-definition video system, surround sound, and multiple audio and video input options. The cabin includes a refreshment center at the entrance, a rear private lavatory with a vacuum toilet and an in-flight accessible baggage area. The total baggage space is the largest in the aircraft's category.
Legacy 500
The Legacy 500 has the best-in-class six-foot flat-floor cabin, which is comparable to those of some aircraft in the super midsize category. Eight club seats may be berthed into four beds for complete rest in a cabin altitude of 6,000 feet. He said that Legacy 500 had sold over 20 plus in 10 countries and had 50 per cent marketshare worldwide in 2015.
Legacy 650
The large Legacy 650 comfortably carries up to 14 passengers with privacy in three distinct cabin zones, and premium acoustic comfort. In addition to the best-in-class galley and a fully accessible in-flight baggage compartment that surpasses in size even those of most ultra-long range business jets, the aircraft may be configured with up to two lavatories. The Legacy 650 features internet connectivity and the latest generation in full HD in-flight entertainment, with Honeywell's Ovation Select entertainment and cabin management system. Over 280 plus aircraft in operation and it had the highest dispatch reliability at 99.5 per cent. It can fly from Delhi to Berlin direct, he said.
Lineage 1000E
The ultra-large Lineage 1000E is Embraer's largest executive jet and can carry up to 19 passengers in five cabin zones. The enhanced interior design of the Lineage 1000E is reflected in the new seats, electric doors, refreshed galley and cabinetry design, automatic tables, improved acoustic comfort, and other cabin amenities.
Its range of 4,600 nautical miles (8,519 kilometres) with eight passengers, including NBAA IFR fuel reserves, means that the jet is able to fly nonstop from New Delhi to Tokyo, Japan or Nairobi, Kenya.