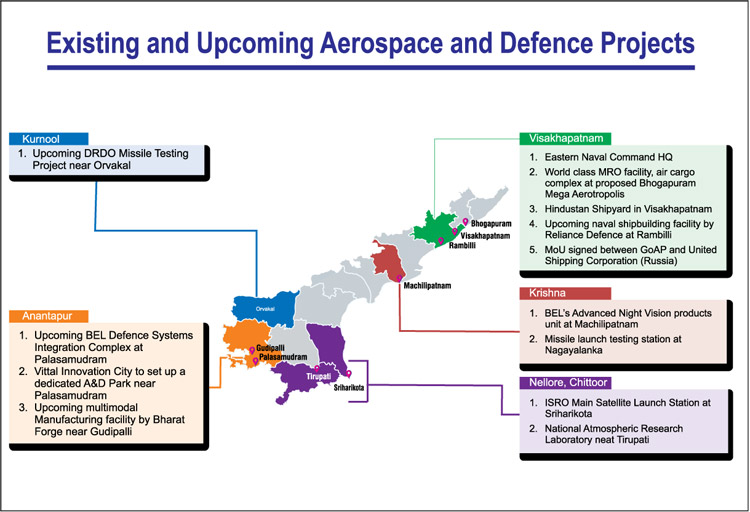 The new state of Andhra Pradesh is fast evolving into a preferred destination for global businesses in India. Andhra Pradesh, at 10.99%, clocked India's highest GSDP growth rate in Financial Year 2016 FY16. The state is expected to consistently grow in double digits, 300-400 basis points ahead of India's average GDP growth rate. Andhra Pradesh's predominantly coastal geography, half a dozen fully operational ports, presence of good road and power infrastructure makes it an ideal location for upcoming aerospace and defence ventures. The state was ranked first on 'Ease of Doing Business' in 2016, with fastest clearance anywhere for business in India. Under the state's visionary leadership of the Chief Minister N. Chandrababu Naidu the governance has been actively geared towards facilitating establishment of new businesses. The state draws upon its world class infrastructure and vast human capital comprising of knowledge professionals and reform minded bureaucracy to pull out all the stops for ensuring a thriving business environment. With 7.64 lakh acres Andhra Pradesh is today the repository of the largest land bank in the country.
The Ecosystem Advantage
India's aerospace and defence sector is expected to attract USD 81.7 billion in cumulative investments over the next 10 years. These investments have unique characteristics such as monopsony, long lead times, high capital intensity, and high quality standards. Therefore, it is vital that apart from supportive State Government a thriving ecosystem of private ancillary industries and Government research labs are present within the state to support the vendor base. Andhra Pradesh scores high on this metric.
The State is home to the Eastern Naval Command and serves as the launch centre for the Indian Space Research Organization (ISRO). KeyDPSUs -Bharat Electronics Limited (BEL), Hindustan Shipyard Limited (HSL) and Defence Research and Development Organization (DRDO) Labs have had a long history of operations in Andhra Pradesh. Recently, DRDO had also announced that it is setting up a technologically advanced missile research centre in Kurnool district. Any new investment within the state can easily leverage the existing, highly developed aerospace & defence ecosystem for technology, manpower and logistics support. Some of the leading private entities in Aerospace and Defence in India such as L&T, Walchandnagar, VEM Technologies, SEC Industries have an active presence within the state Other Indian Defence majors and global aerospace majors such United Shipping Corporation (Russia) SAAB (Sweden), Lockheed Martin (United States of America), Airbus (France) and Boeing (United States of America) have also expressed a keen interest in partnering with the state.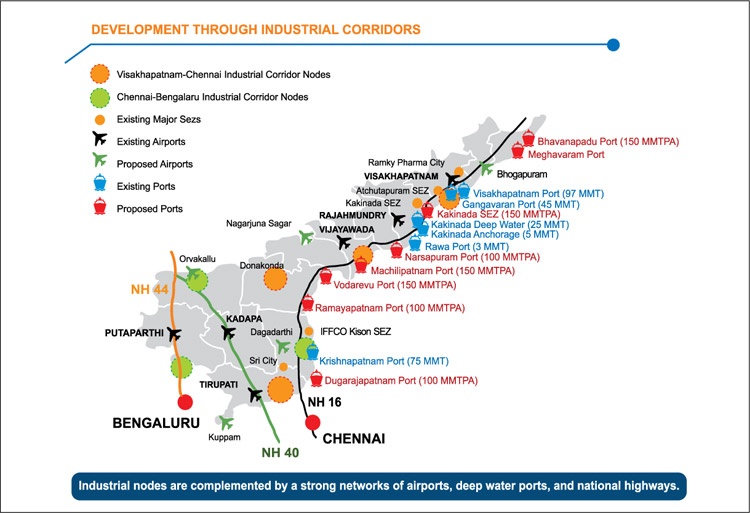 The Policy Advantage
The State has prescribed graded policy depending on the quantum of Investment being brought in. Investments greater than INR 200 crore in a single standalone unit having order size of at least INR 50 crore qualifies as an Anchor unit. These Anchor Units, qualify for several benefits including, but not limited to, the following:
Preferential land allotment with ability to sub-lease land parcels to ecosystem partners, subject to certain norms
Capital subsidy for plant and equipment for the first 10 units in the policy period
Logistics cost reimbursement for imported items, subject to certain rules
The ready availability of R&D centres staffed with competent personnel makes Andhra Pradesh a thriving ecosystem for innovation and frontier projects. State's entrepreneurial culture can be nurtured within the ambit of a supportive State policy and can be readily aligned with the broader goals of 'Make-in-India' and 'Start-up India' in A&D sector.
Andhra Pradesh's status as a new state allows it to break free of legacy issues and structural bottlenecks.. Government of Andhra Pradesh (GoAP) is keen on providing all the fiscal and infrastructural necessities the Government is willing to provide up to 50% of the land costs, building and plant and machinery and 100% reimbursement on VAT/GST/SGST on all input material including Aviation Turbine Fuel for Aircraft MROs in Andhra Pradesh.
Apart from a single window clearance and constitution of a special cell for facilitation of individual projects, GoAP is also looking to provide permission for 24x7operation of A&D clusters in three shifts. Also, to discourage strikes, Aerospace and Defence industry will be declared a Public Utility under the Industrial Disputes Act, 1947.
The Infrastructure Advantage
Andhra Pradesh has three proposed Industrial corridors – Vishakapatnam-Chennai, Chennai-Bengaluru and Bengauru-Kurnool. The expanse of these three corridors covers the whole of Andhra Pradesh, providing vital linkages to manufacturing regions with supply & demand centers giving a massive fillip to economic activity throughout the entire state.
Anantpur, Chittoor and Nellore districts have been earmarked for creation of Aerospace and defence parks. An SPV will provide a developed space in the form of 'plug & play' infrastructure for interested manufacturing entities. The state has six airports, which would increase to 12 by 2020. Andhra Pradesh – Aerospace & Defence Electronics park (AP-ADE), a JV between Andhra Pradesh Industrial Infrastructure Corporation (APIIC) and Vittal Innovation City (VIC) is aimed at creating one the world's finest innovation and manufacturing cluster focused in Aerospace, Defence and Electronics.
The city of Amravati, being developed as a greenfield capital city, will have state of the art infrastructure, inner city canal system and a robust network of arterial roads. The city is bounded by two National Highways NH5 (Vizag-Chennai), NH9 (Hyderabad- Machlipatnam), is currently at a distance of 250 km from Kakinada deep water port, which would be reduced to 100 km once Machlipatnam deep water port becomes operational and is 25 km from Gannavaram airport. It has the unique potential of being India's first 'planned smart city'.
The broader defence sector has seen a surge of technology start-ups especially in countries such as Israel. If business in Andhra Pradesh is able to pivot quickly to address the needs of India and global defence majors by leveraging technology intensive solutions which can be rapidly integrated into complex weapon platforms and larger defence systems, the state can compete with regions such as Haifa in Israel and Silicon Valley in United States in attracting the finest technically skilled manpower and high value Venture Capital.