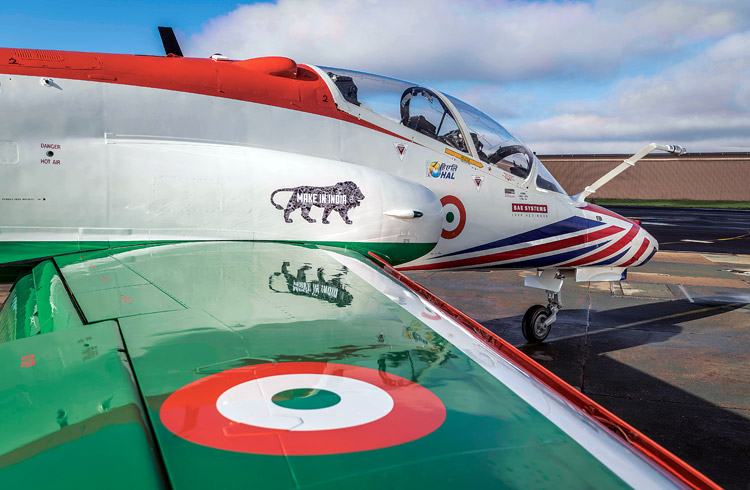 Demonstrating its commitment to 'Make in India' campaign, BAE Systems for the first time in India is debuting the Advanced Hawk, the latest development of the world's most successful jet trainer, in collaboration with the Hindustan Aeronautics Limited (HAL), at the 11th Aero India show. This fulfils the commitment made jointly by BAE Systems and HAL at the 2015 Aero India through signature of a memorandum of understanding to explore future possibilities for the Hawk aircraft for India and export markets.
Clad in Indo-UK colours, the Advanced Hawk is on display at HAL's stand, together with a simulator showcasing the aircraft's new capabilities. BAE Systems is also exhibiting at the show with a number of displays spanning the breadth of its capabilities, technologies and platforms.
Building on the success of the Hawk Mk132, which recently completed 1,00,000 flying hours with the Indian Air Force and the Indian Navy, the new features of the Advanced Hawk enable training activities currently performed on frontline fighter aircraft to be undertaken on the updated air platform. The Advanced Hawk will reduce training demands on more expensive front line aircraft, creating additional capacity for operational tasks, whilst delivering fast jet training in a more cost-effective, structured and safer environment. High commonality with the existing Hawk production and support infrastructure in India enables the Advanced Hawk to be manufactured and supported with maximum reuse of facilities, equipment and skills.
Leading the company's participation at South Asia's premier air show are Alan Garwood, Group Business Development Director, and Stephen Timms, Managing Director, Defence Information, Training & Services. BAE Systems India is being represented by Alistair Castle, Country Director, and Nik Khanna, who has recently been named Managing Director.
Stephen Timms said: "The Advanced Hawk is a testimonial of our commitment to sharing technology, capability and knowledge to build advanced systems in India, for India and from India. Together with HAL, we are looking forward to show this industry-funded demonstrator to the Indian and other air forces and seeking their feedback on the combination of features that will better prepare student combat pilots for the demands of front line aircraft."
Alistair Castle said: "'Make in India' is the cornerstone of our strategy and Aero India is an excellent platform for us to engage all our customers and wider industry to explore new ideas for partnerships, whilst strengthening existing ones, such as our association with HAL and Mahindra."
Amongst BAE Systems' displays is the Eurofighter Typhoon, the world's most advanced new-generation multi-role/swing-role combat aircraft available on the market, as well as the Advanced Precision Kill Weapon System (APKWS). The full-colour Striker II helmet-mounted display (HMD) and the BR90 Modular Bridging System are also making their debut at the show along with a broad range of munitions. Striker II is a platform-agnostic, completely digital and now full-colour HMD that provides today's combat pilots with remarkable situational awareness, night vision, target tracking and advanced audio technology — all in one visor-projected system.
BAE Systems recently received a contract from the US Department of Defense to provide 145 M777 ultra-lightweight howitzers to the Indian Army through a foreign military sale between the US and Indian governments.