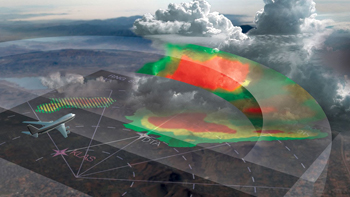 Honeywel's Intuvue 3D Weather Radar
Whether you're flying coach, first class or in the privacy of your business jet, we can all agree that comfort is first and foremost our highest priority when flying – besides safety, of course. And, if you're one of the 3.7 billion estimated passengers flying in 2016, you're probably tired of the same old features and have only dreamt about an airplane that gives you the ability to access the internet, satellite television and a way to manage these features all from the comfort of your seat; you don't have to dream – these features actually exist.
In fact, Honeywell has an entire suite of solutions to make flying more comfortable for everyone, including those travelling on major airlines. So, if you're traveling this year and are ready for a better flying experience, these five, innovative Honeywell's solutions make flying more enjoyable for everyone on-board.
Jetwave
In 2016, it's imperative for all airlines to offer Wi-Fi connectivity since the FAA has allowed passengers to use portable electronic devices from take-off to landing since 2013. In fact, it's unusual and frankly very inconvenient to find a plane in today's day and age that doesn't offer wireless connectivity during flight. Luckily, Honeywell has made this easier for airlines and private jet owners by developing a solution to connect passengers to the internet, even at the highest elevations.
Honeywell's Jetwave allows passengers to access the internet and stay connected to what's most important to them with the help of Inmarsat Aviation's Global Xpress (GX) Ka-band network. This provides high-speed connectivity of up to 50 Mbps, making flying more comfortable and a little less awkward for everyone tired of reading the safety instructions or looking at their neighbor during a 12-hour flight
Ovation Select
We live in a world where we can operate our thermostat, lock all of our doors, turn on a light and much more all from the touch of a button on our phone. What would you say if I told you that you could do all of that now from the convenience of your seat on an airplane? Spoiler alert: you can.
With solutions like Honeywell's Oviation Select Cabin Management System, you can do things like open window shades, control lights, adjust the volume of your TV and much more all from the your mobile device or even your Google Glass – now that's comfort.
AIS-2000 Satellite Television
If you're a seasoned traveler, chances are you've enjoyed your fair share of outdated movies during a long flight. And, with the rise of Wi-Fi on planes, many of us would rather read a book from our tablet than have to watch another one of these movies. However, the need to watch real-time TV has become a necessity in many business aircraft flying today, which is why we've created AIS-2000 Satellite Television.
With Honeywell's AIS-2000 Satellite Television, passengers no longer have to miss their favorite TV shows or sporting events because it's available in the airplane. Now, business jet owners can stay connected to direct broadcast television instead of catching up on their shows when they get on the ground; this saves time and keeps them entertained while they're in the air. Comfortable yet? I think so.
Intuvue 3D Weather Radar
Raise your hand if you've ever successfully fallen asleep on airplane to be woken up shortly after from turbulence? Not only is turbulence uncomfortable for those flying, but it also "causes airlines on average $1,50,000 per incident". Fortunately, new advances in technology have made it easier for pilots and their crews to avoid harsh weather.
Our solution? Intuvue 3D Weather Radar
Honeywell's Intuvue 3D Weather Radar displays timely weather information unlike any other weather radar system by integrating volumetric 3D scanning to increase visibility, improving pilots' ability to change their flight plan in order to avoid bad weather conditions with enough time to spare. Although this might not be the first type of technology you think of when you think comfort, nor the sexiest, you'll definitely notice how enjoyable your next trip is if you're not gripping your seat for dear life the entire flight.
SmartRunway and SmartLanding
Since working at Honeywell, I've learned that takeoff and landing is truly an art form. For example, there are several different ways to land an airplane with a variety of different approaches made to get everything on the ground while also not disturbing airline traffic. However, if you've been on enough flights, you've probably experienced some landings that were smoother than others. That's why we've created a solution to make taking off and landing more efficient and quieter.
Honeywell's SmartRunway and Smart Landing is an evolutionary software addition to Enhanced Ground Proximity Warning Systems (EGPWS.) This technology allows pilots to communicate with air traffic control through visual messaging, which allows them to plan more efficiently for landing. It gives the pilot another way to communicate rather than trying to speak to ATC in heavily-saturated airways and therefore, makes it quieter for its passengers. Now, you can take that nap you've been looking forward to and wake up at your destination.
Whether you're in the midst of traveling, planning your next trip or getting ready to book your first flight, make sure to keep an eye-out for some of this technology and let us know you found it with #flymuch.