India will establish strategically independent defence industry: Prime Minister Narendra Modi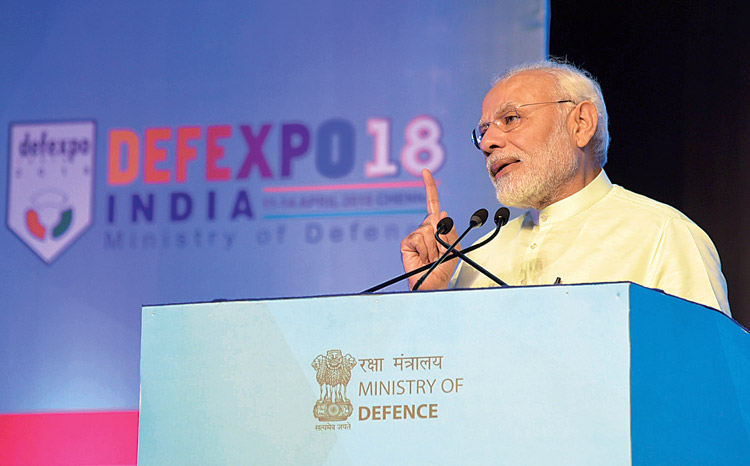 PRIME MINISTER NARENDRA MODI DELIVERING HIS ADDRES AT THE INAUGURATION CEREMONY OF THE DEFEXPO INDIA-2018
Inauguration of the Defexpo 2018 by the Prime Minister Narendra Modi reinforced the Indian Government's commitment to make India self reliant in defence manufacturing. Prime Minister Modi, on the second day, formally inaugurated the show in the presence of the Governor of Tamil Nadu Banwarilal Purohit, Chief Minister K. Palaniswami and Defence Minister Nirmala Sitharaman.
While delivering his inaugural speech, Modi convincingly articulated his government's plan to ease out woes of Indian and global defence industry. "Our commitment to peace is just as strong as our commitment to protecting our people and our territory. For this we are ready to take all necessary measures to equip our armed forces, including through the establishment of a strategically independent defence industrial complex."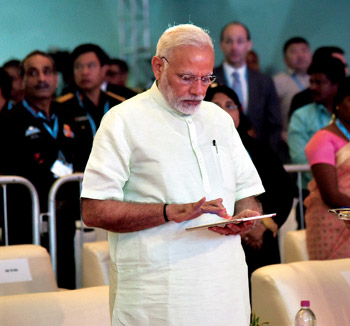 PRIME MINISTER NARENDRA MODI LAUNCHING THE IDEX (INNOVATIONS FOR DEFENCE EXCELENCE) SCHEME AT THE INAUGURATION CEREMONY OF DEFEXPO 2018
Speaking on the delays in the defence procurement, Prime Minister criticised the policy paralysis during the previous central regime. "There was a time when the critical issue of defence preparedness was hampered by policy paralysis. We have seen the damage such laziness, incompetence or perhaps some hidden motives, can cause to the nation. Not now, Not anymore, Never again," he added.
Referring to the recent finalisation of the bullet proof jacket, he said, "You would have seen how the issue of providing bullet proof jackets to Indian soldiers was kept hanging for years. You would have also seen that we have brought the process to a successful conclusion with a contract that will provide a boost to defence manufacturing in India."
Discussing the policy initiatives in the defence sector the Prime Minister said, "We are conscious that defence manufacturing is unique in terms of government involvement. You need the government to grant a license to manufacture. Since the government is almost the only buyer, you need the govt. to grant an order. You need the government even to grant permission to export."
"Over the last few years, we have made a humble beginning. On defence manufacturing licenses, on defence offsets, on defence exports clearances, on foreign direct investment in defence manufacturing, and on reforming our defence procurement, we have taken many steps," he added.
Connecting the historical legacy of the venue with India's East Asian geo-strategic 'Act East' policy, he said, "This is the land from where India Looked East and Acted East thousands of years ago."
Noting the uniqueness and distortion of the defence industry where government is the sole buyer, Modi said, "We are conscious that defence manufacturing is unique in terms of government involvement."
Industry needs government to give license to manufacture to even export.
"In May 2014, the total number of defence export permission granted stood at 118, for a total value of $577 million. In less than four years, we have issued 794 more export permissions, for a total value of over $1.3 billion," he added.
Earlier, the CM Palaniswami said that state government wants the industry to utilise Tamil Nadu's large industrial base and large number of highly skilled manpower. He also said that his government will make Chennai a maintenance repair and overhaul (MRO) hub for aviation which forms a big part of defence industry.
Tamil Nadu is working to establish a 300 acre defence and aerospace industrial park at Sriperumbudur which can be later expanded to 500 acres.
During the inauguration Modi also launched the Innovations for Defence Excellence (IDEX) which will support young men and women to come up with innovative solutions for Indian defence requirements.
The inauguration was watched live by audiences in 35 locations abroad. Arrangements were made in Indian Embassies in Finland, Germany, Netherlands, South Korea, Japan, Australia, Turkey, etc.