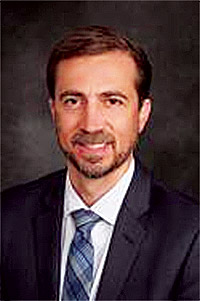 MICHAEL KOCH, VICE PRESIDENT,
BOEING DEFENSE, SPACE & SECURITY
IN INDIA
Global defence and aerospace major Boeing is looking forward to strengthen its presence in India. Employing over 1,600 people and contributing with over 7,000 employments, through its partner firms to Indian economy, Boeing is annually sourcing from India is worth one billion dollars. In a press briefing, during the show, Michael Koch, Vice President, Boeing Defense Space and Security, India, informed that their company has developed a vendor base of 160 suppliers.
Deeping the relationship with the larger industrialtechnical ecosystem in India, Boeing is developing academic and research relationship with premier Indian institutions like Indian Institute of Technology (IIT). As of now, it has formed 12 research and development partnerships and academic partnerships with five IITs.
Boeing Defence India (BDI), a local operating entity, to drive the company's future growth objectives in the country will focus on responsiveness to customer needs and grow indigenous engineering, sourcing, manufacturing and lifecycle management capabilities.
With BDI, Boeing will expand its engagement with India to deliver advanced capability and readiness to its military customers and to develop a competitive supplier base in country that is integrated into company's global supply chain.
The company's sole manufacturing joint venture with Tata group was formed in 2015 with the purpose of working together on aerospace products. The work on the facility began in 2016 and was inaugurated on March 1. The Hyderabad based facility will be the sole producers of fuselages for the global Apache attack helicopters fleet. The deliveries will begin in 2018.
Discussing the 22 AH-64E Apache and 15 CH-47F Chinook helicopters programme for India, the company said that the deliveries will begin in 2019. It was also informed that the Boeing has signed Letter of Acceptance for the 11th C-17 Globemasters for India. Boeing has already delivered 10 C-17s to India.
In addition, Boeing has to deliver four more P-8I maritime reconnaissance and strike aircrafts. India, which operates eight of these birds, is the international launch customer of the aircraft.
Having established a foothold in Indian market, Boeing is now participating in competitive tenders for 110 fighters for Indian Air Force (IAF) and 57 carrier based fighters for Indian Navy. The company is offering its twin engine F/A-18 Super Hornet through 'Make in India'. IAF tender is through the Strategic Partnership model which requires an Indian partner for the original equipment manufacturer.
Boeing is also participating in the IAF's mid-air refuelling tanker programme with its KC-46A Tanker.
Company through its industrial partners like Tata, HAL, SASMOS and BEL, is sourcing key components of the F/A-18 Super Hornet, Apache, Chinook and P-8I. Through its fleet support programmes, Boeing is providing 85 per cent and higher mission readiness rates in India. It is also providing training to Indian crew of its C-17 and P-8I aircraft.
In 2017, Boeing signed a three-year contract to substantially bolster Boeing's performance-based support to the Indian Navy and increase the operational capability of the P-8I fleet.
For the Indian Navy and Army's unmanned aerial system requirement, Boeing is offering its Integrator drones. With around 61 kg of maximum takeoff weight the drone has an endurance of 24 hours and can loiter at a maximum height of around 6,000 metres.