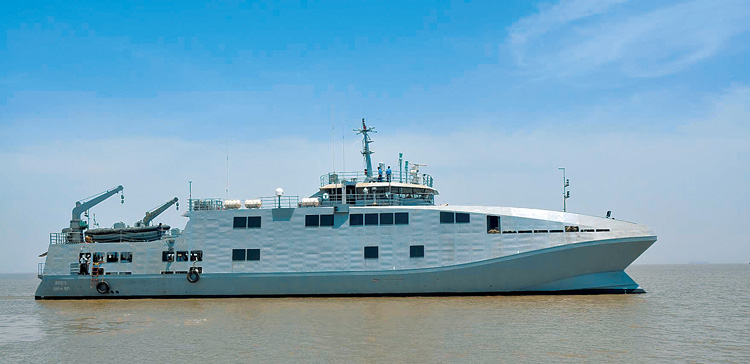 INS MAKAR
The arrival of INS Vikramaditya in January has ushered in a special new era for the Indian Navy. Not in 16 years has it been in a position to deploy two aircraft carriers. The formidable 44,500-tonne refurbished Soviet-era aviation cruiser, reinvented as a STOBAR carrier, has been a monumental effort. As we speak, the Indian Navy is stretching the ship's legs in the Arabian Sea ahead of a ceremonial welcome by the government in Mumbai soon. Truthfully, the Navy is far more interested in the implications of the ship that follows - the new Vikrant, India's first indigenous aircraft carrier, currently under construction at the Cochin Shipyard in southern India. That, and the 45 other ships and submarines that populate the Indian Navy's current order book. There's something special about the order book, and it was captured by Chief of the Naval Staff, Admiral D.K. Joshi two months ago when he said, "Our theme for this year's Navy Week is 'Maritime Security Through Self-reliance' encapsulates our commitment to indigenisation in quest for strategic autonomy in the region. We are proud of the fact that all 45 ships and submarines, which are currently on order for Indian Navy, are being constructed in India in both public and private shipyards."
The Indian Navy currently operates two aircraft carriers, an amphibious landing platform dock (INS Jalashwa, the former USS Trenton), 9 landing ship tanks, 8 guided missile destroyers, 15 guided missile frigates, one Russian nuclear-powered attack submarine, 13 diesel-electric attack submarines, 24 missile corvettes, 7 mine countermeasure vessels, 32 patrol vessels, 4 fleet replenishment tankers and various smaller auxiliary vessels. Currently under construction for the navy are seven Project 17A indigenous improved Shivalik class stealth guided missile frigates (four to be built at the Mazagon Dock Ltd (MDL) and three at the Kolkata's Garden Reach Shipbuilders and Engineers Ltd (GRSE), three Project 15A Kolkata class indigenously designed guided missile destroyers, four Project 15 Bravo improved Kolkata class guided missile destroyers to be built by MDL (construction of first two began in October 2013), four Project 28 Kamorta class anti-submarine warfare corvettes (the lead ship enters service shortly), two Sunayna class offshore patrol vessels built by the Goa Shipyard Ltd (in addition to two already commissioned starting January 2013), three 4,000-tonne cadet training ships being built by the ABG Shipyard in Gujarat, five 500-tonne steel hull-aluminium superstructure hydrographic survey catamarans being built by Alcock Ashdown Shipyard in Gujarat (in addition to first ship commissioned in September 2012), four landing platform docks (two to be built by the Hindustan Shipyard, and an additional two by the winner of a tender between three private shipyards - Pipavav, L&T and ABG), eight mine countermeasure vessels (two to be built by South Korea's Kangman and six to be built by Goa Shipyard Ltd), two deep submergence rescue vessels (DSRV), six Scoepene class submarines at Mazagon Dock Ltd, among several other smaller auxilliary vessels. This, of course is in addition to the Arihant nuclear submarine programme that will see the construction of two more SSBNs of a modified class moving ahead. In addition, the Goa Shipyard Ltd is currently building six advanced offshore patrol vessels for the Indian Coast Guard, plus several other smaller auxilliary ships.
The opportunities for cooperation in the shipbuilding, weapons and electronics spheres are enormous as far as the Indian Navy is concerned. To put things into perspective over how much has happened since the last Defexpo, a month after the 2012 show, the Indian Navy commissioned the INS Chakra Akula-II class nuclear attack submarine into service. The same month, it began inducting the there improved Talwar class frigates, with the last (INS Trikand) entering service in June last year. Four months after the 2012 show, the Indian Navy commissioned the final Project 17 stealth frigate, INS Sahyadri into service. Then outgoing Navy Chief, Admiral Nirmal Verma had said, "The Indian Navy's preferred choice of inducting ships and submarines has always been through the indigenous route. Today, of the 46 ships and submarines presently on order, 43 are from Indian shipyards. The intended induction programme is structured to continue at a pace such that over the next five years we expect to induct ships and submarines at an average rate of 5 platforms per year provided the yards deliver as per contracted timelines. At the same time it would be amiss if I did not emphasise the need for our public and private sector shipyards to scale up their capabilities to deliver state-of-the-art warships that meet our future needs in time frames that match global standards. To offer a perspective, the global average for building a ship similar to a Delhi class is about 36 months, that too with a stringent cap on man days. These are the standards that our shipyards must emulate so as to contain costs of shipbuilding. This would result in higher productivity and capacity utilisation. The provisions of the Defence Procurement Procedures to 'Buy and Make Indian' must be adopted to synergise capabilities and implement leap-frogging technologies. The Navy's forthcoming LPD programme is a unique opportunity in this context."
The Indian navy has espoused the self-reliance mantra far more substantively than the other two services, not least owing to necessity and reliability issues with foreign sourcing of frontline ships. Several foreign shipbuilders at Defexpo recognise that transferring technology to Indian shipyards is the only way forward. This year's show affords an excellent platform and opportunity to further discussions on maritime business in India and around the world. In the last 15-20 years, India has proven its prowess in quality warship building, intensifying the possibility of India being hub for warship construction and supply to other countries the world over.
Two European shipyards are among those taking the Indian Navy's modernisation philosophy very seriously.
"Defexpo is a very important platform for DCNS to showcase the services we can provide to our customers through genuine transfer of technology," says Bernard Buisson, Managing Director of DCNS India. "DCNS India set up a dedicated indigenisation programme as part of the transfer of technology (ToT) agreement with Indian naval shipbuilder Mazagon Dock Limited. It received the prestigious 'Excellence in Indigenous Technology' award at Aerospace and Defence Awards 2013".
German rival ThyssenKrupp Marine Systems is back at Defexpo this year in a big way. According to the company, "As a leading full-service naval shipbuilding systems and solutions provider, ThyssenKrupp Marine Systems enjoys long-standing strategic ties with India. For more than a quarter of a century, the Indian Navy has been operating four HDW class 209/1500 submarines, locally known as the Shishumar class. The after-sales service provider Marine Logistik GmbH (MARLOG)-which was integrated into ThyssenKrupp Marine Systems last year - has been a partner to the Indian Navy for more than two decades, delivering spare parts for the Shishumar class. This successful cooperation is now being continued under the new affiliation. At present, ThyssenKrupp Marine Systems is in discussions with the Indian Navy to support the upgrading of two of these vessels through the integration of the latest weapons and sensors, including Harpoon anti-ship missiles. Furthermore, the company is supplying sophisticated composite structures for the P-28 corvettes currently being built at the Garden Reach Shipbuilders and Engineers Ltd."
Obviously, Defexpo isn't just about big frontline warships. In fact, with order books for large ships mostly filled at this stage barring a few crucial tenders, major business opportunities exist in allied systems, support equipment, combat systems and advanced electronics. Which is why US firm Textron Systems returns to Defexpo this year with a range of maritime capabilities ranging from the Common Unmanned Surface Vessel to the next-generation Ship-to-Shore Connector amphibious landing craft - both smaller requirements among the larger scheme of things for the Indian Navy. Airbus Defence and Space has introduced the SCOTPatrol SPM800X next-gen naval terminal, designed to extend satcom capabilities to smaller ships such as offshore patrol vessels (OPVs), with the capability to transmit large volumes of data over Ku, Ka and X bands, SCOTPatrol can act as a beyond-line-of-sight (BLOS) relay for video, multispectral and radar imagery, from intelligence, surveillance and reconnaissance (ISR) assets such as helicopter UAVs. At this year's show, Israel Aerospace Industries Limited has lifted the curtains off its brand new unmanned ship, Katana, designed to actively protect critical maritime establishments, including ports, undersea energy pipelines and energy rigs.