"Our vision for the future moves beyond technology transfers and manufacturing to creating a broader ecosystem that includes co-design, co-development and co-manufacturing."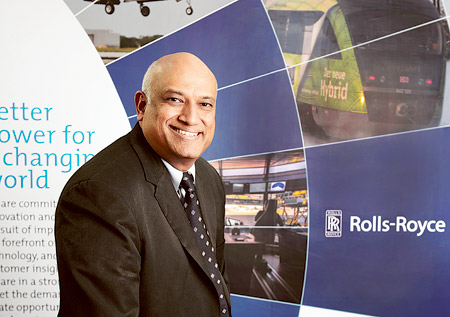 SP's ShowNews (SP's): How has your partnership with India progressed over the past few years?
Kishore Jayaraman (Jayaraman): Over the last 80 years, we have invested time and resources to contribute towards the development and transformation of the aerospace and defence ecosystem in India. We have created best-in-class supply chains and engineering capabilities which are contributing to the development of Indian industry. Given our belief in India's potential to be the hub for manufacturing and innovation, we have set up Engineering Centres in Bengaluru and Pune. These centres continue to build capabilities and capacity to do a wider spectrum of engineering design and development. We are also growing our supply chain capabilities and engaging with companies like Bharat Forge, Godrej & Boyce and TASL (Tata Advance Systems Limited) to get into more complex commodities. Together with the Hindustan Aeronautics Limited, we intend to grow our JV partnership (IAMPL), which manufactures a wide range of engine components including compressor shrouds and cones for our gas turbines, with a focus on opportunities to collaborate on co-development. With about 10 engine types in service with the Indian Air Force and the Indian Navy, we provide a wide range of support solutions ranging from provision of technical advice, through supplying spares and material to the Indian armed forces. Our partnership with the Strategic Manufacturing Skills Council for defence sector and with Rajiv Gandhi National Aviation University (RGNAU) enables us to build future competencies required by the Indian A&D industry. Overall, we are building an ecosystem that will allow us to eventually embrace opportunities to co-develop and co-manufacture with the right Indian strategic partners.
SP's: What are your views on the Indian defence industry?
Jayaraman: Modernisation, reforms and technology are the three crucial elements that currently define the Indian defence industry, and each play an instrumental role in driving the growth and stability of the sector.
The strong growth in the industry, aided by government's important policy reforms and initiatives, is already attracting foreign original equipment manufacturers (OEMs) and leading companies from the domestic private sector to enter the market. Given the government's focus on fleet modernisation and clear vision for building an indigenous defence industry, the growth in domestic demand will continue to be robust. India also has aspirations to become part of the global supply chain for some of the biggest defence suppliers in the world. The key drivers supporting this are the country's big pool of engineering talent, its cost competitive advantages as well as several positive policies that work to improve ease of doing business in defence manufacturing. All these initiatives, coupled with the country's vision to achieve better defence preparedness, own advance technology, build robust manufacturing and create highly skilled workforce, offers immense opportunities for foreign OEMs, SMEs as well as private domestic players to be a part of this emerging growth story.
SP's: Looking towards the future, where do you see Rolls-Royce heading in India?
Jayaraman: Our vision for the future moves beyond technology transfers and manufacturing to creating a broader ecosystem that includes co-design, codevelopment and co-manufacturing. This in turn will result in not just technology transfer but also capability creation and skill development. Through our engineering centres and growing supply chain activities, we have already demonstrated our long-term commitment to strengthen our distinguished legacy and play a major role in developing an ecosystem that will engage in co-creation across the entire value-chain — from research, design and development to manufacturing, maintenance and repair. This is what Rolls-Royce considers to be one of its core strengths. Overall, our belief in India's talent and its manufacturing capabilities, coupled with our commitment to play a key role in India's indigenisation vision positions us to embrace opportunities to co-design, co-develop and co-manufacture with right Indian strategic partners.
SP's: What do we need to focus on to support growth of the defence sector in India?
Jayaraman: The country's aspiration to evolve from a regional power to a global power has led to creation of well-defined initiatives focusing on achieving indigenisation and self-reliance. The government has taken several positive steps to encourage transfer of technology. Opening the sector to 'modern' technology is also a step in the right direction in the journey towards ecosystem development.
'Make in India' and the host of other reforms such as increased FDI, ease of doing business, etc. will give a boost to indigenous manufacturing sector with modern technologies and best practices being shared by global OEMs. Also, protection of intellectual property is always important, so it's great to see the new India/UK Government MoU, signed during Prime Minister Theresa May's visit, on working together to better provide this.
Currently, the country is at the right juncture to build a vibrant local defence industry ecosystem that could support both domestic and export demand. The need of the hour is increased partnership and collaboration between all key stakeholders — the government, foreign OEMs and the private domestic Indian industry with a focus on developing a strong and sustained R&D as well as creation of a highly skilled resource base.
SP's: What will be Rolls-Royces focus for Aero India 2017?
Jayaraman: At Aero India, we are focusing on the theme of 'Co-creating the future with India', which translates to recognising the deep relationships we have built up over many years, moving beyond just 'Making In India' and really looking for opportunities to create the indigenous defence aerospace future together with India.
This year, we are showcasing our Adour engine as well as the Advance Military Fan Concept. The Jaguar has flown with Rolls-Royce Adour Mk811 since 1981 and the Adour Mk871 has been powering the new Hawk advanced jet trainer, which recently clocked 1,00,000 hours of flying hours with the Indian Air Force.
The Advance Military Fan Concept is designed to improve core efficiency while minimising installation effects. It's an example of how we can produce rapid prototypes at the early stage of an advanced engine programme to derisk technical and industrial decisions before launching a full development programme.
Aero India offers a perfect platform for us to showcase our current capabilities and progress our aspirations for working with our Indian partners in the future. It is also a unique opportunity to meet a huge range of our customer base thus enabling us to further our relationships and talk about how we can help drive capability in India — both for the operator and the industrial base.