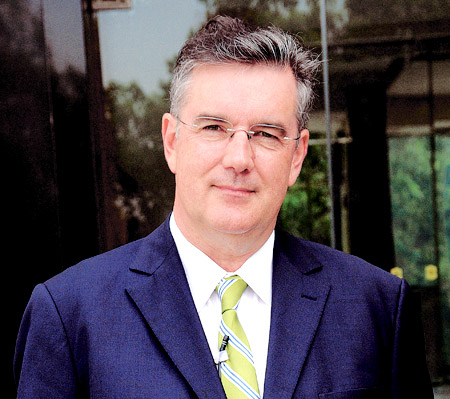 SP's ShowNews (SP's): How does Airbus view the recent policy changes in defence, especially the one liberalising rules for foreign companies to own a majority stake in manufacturing ventures in India?
Pierre de Bausset (Bausset):: Due credit needs to be given to the Indian Government for taking progressive policy steps — liberalisation of defence FDI policy being one of them — with the aim to boost defence manufacturing in India. The next step is implementation.
SP's: Is Airbus encouraged by the government's policy changes and will this prompt the company to set up a manufacturing base in India?
Bausset: The policy changes introduced by the government are pragmatic and they do uplift investor sentiment. We already have some programmes underway which once they fructify — meaning once we get the contracts from the Ministry of Defence — will allow us to have a defence manufacturing base in India. We have a partnership with Tata to build the C295W military transport aircraft and with Mahindra to produce military helicopters.
SP's: Will sealing the naval utility helicopter (NUH) deal for the Indian Navy be a trigger for Airbus to decide on manufacturing in India?
Bausset: Our defence manufacturing plans in India are not contingent on just one programme. The C295W programme with Tata is one example. That proposal is currently with the Ministry of Defence and is advancing. This programme holds out the promise of creating a private sector aircraft manufacturing capability in India within an ambitious time frame, and nurturing a widened supplier base with an increasingly skilled workforce.
Our partnership with Mahindra envisages creation of a private sector champion in India for manufacturing military helicopters. This includes the reconnaissance and surveillance helicopter (RSH), naval multi-role helicopter (NMRH) and naval utility helicopter (NUH). We are offering our 'Panther' for the NUH. If we get the contract, we are willing to create a final assembly line for the 'Panther' in India and make India a global hub for its production.
Since we are talking about Airbus' manufacturing footprint in India, it is also worthwhile to mention that on the civil aircraft side, we already have an industrial engagement with India which is unmatched by any other foreign OEM. We have over 45 Indian suppliers for our commercial aircraft business and we source over $500 million of aero-structures, detail parts and systems, engineering and IT services, materials and cabins from India annually.
SP's: Some defence companies we spoke to are planning to use India as an export base. Does Airbus have similar plans?
Bausset: While our immediate goal remains to meet the already large needs of the Indian armed forces, once they are fulfilled, the infrastructure that our partners and we would have built in India could and would be used to answer export needs.
SP's: What do you think about the progress the Modi government has made in attracting foreign capital to defence in India and how does this compare with earlier governments? And what are the areas that could use some more improvements or change?
Bausset: Clearly, the government is keen to make India self-reliant in her defence needs and this reflects in their policy announcements as well as in our private discussions with them. What has been done is to lay the groundwork. What is needed now is for the government to award a few large-scale contracts to jumpstart foreign direct investment and manufacturing activity as part of 'Make in India' in the aerospace and defence sector.