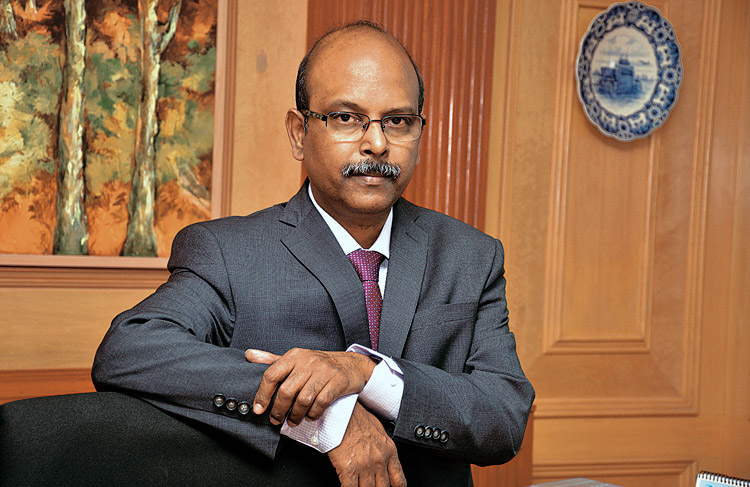 SP's ShowNews (SP's): Can you tell us about BEL's participation in Aero India 2017?
CMD: BEL is showcasing its wide range of capabilities at spanning every domain of its business — Electronic warfare and avionics; C4I systems and solutions; communication systems; electro-optics; radars; energy shelters and missile systems, besides demonstrating R&D capabilities. Electronic warfare & airborne products on display include avionics for light combat aircraft (LCA), lightweight ESM system for helicopters and LRUs for Rustom unmanned aerial vehicle (UAV). Communication systems on display include the Software Defined Radio — airborne and AFV versions, Radio on the Move (ROTM), Stars V Mk-III, CNR Mk-II, SATCOM terminal man-pack and hand-held and advanced landing ground communication terminal. On display include a host of new radars — ground penetrating, through wall, Schilka weapon system, weapon locating, and minefield recording system. The highlight of BEL's outdoor display will be the army version of the Akash missile system, including the troop level radar, troop control centre, troop power supply vehicle.
SP's: Tell us about your recent successful supplies to the Indian armed forces.
CMD: BEL has successfully executed many notable orders for the Indian armed forces. These include Akash weapon systems for the Indian Army and the Indian Air Force, 3D Tactical Radar for the Army, passive night vision devices, low level lightweight radar for the Air Force, fire control systems for the Navy, ship data network and new-generation Sonars for the Navy.
SP's: Give us an update on Akash and other missile programmes where BEL is actively involved.
CMD: Akash is a great success story and the best example of the Indigenous Design Development and Manufacturing drive. Almost 92 per cent of the total inputs are sourced within India. Akash is the first indigenously developed air defence missile system in our country, realised by DRDO with support from BEL, BDL and private industry. While the radars, control centres, simulators, associated maintenance vehicles and the integrated software for the system are supplied by BEL, the missiles are from BDL, Squadron Control Centre is from ECIL and the launchers are supplied by Tata Power SED and L&T. There are around 500 vendors, out of which 108 are MSMEs.
SP's: Tell us about your ongoing projects for the Indian Air Force (IAF).
CMD: The current/immediate future EW programs for the IAF are:
Radar warning receivers for Su-30 fighter aircraft
Ground-based Mobile ELINT System (GBMES): The first production model of the system is under progress and the system is likely to be delivered shortly.
Avionics Package for LCA comprising of EW Solutions, Flight Control System, Weapon Control System, cockpit modules, etc
EW Suite for MiG-29 Upgrade programme
ELINT & COMINT systems for UAV: Development of ELINT & COMINT payloads for UAVs are under progress with DRDO and will be ready for trials by mid-2017.
Integrated EW Range (IEWR): The proposal for IEWR has been submitted by BEL and cleared by DAC. The RFP is likely to be released in early 2017 and BEL has commenced discussions with its technology partner.
Passive Surveillance System (PSS): The RFI for PSS system has been issued by IAF and BEL has submitted the Technical Proposal.
Product Support through Long Term Maintenance Agreement (LTMA) and Long Term Rate Repair (LTRR) / AMC contracts for earlier supplied systems / RWRs for different platforms including AEW&C programme.
SP's: What are your major EW programmes?
CMD: Currently, BEL is working on two major EW programmes for the Indian armed forces. These EW systems are configured based on state-ofthe- art Quad Superhet Receiver (QSHRx), Quad Digital Receiver (QDR) and Homodyne Receiver technologies. The system is equipped with DRFM based multi-beam jammer with robust software features.
SP's: What role will BEL play in aircraft programmes like AMCA, Rafale and LCA?
CMD: For AMCA, BEL will be the Production Agency and Development Partner for EW suites, flight control systems, weapon control systems and cockpit modules. BEL will also play a role as agency for avionics integration of all the systems onboard the aircraft.
With regard to Rafale, BEL is interacting with Dassault of France, and Thales of France, for manufacture and supply of Electronic Warfare Suite and AESA Radar under co-production agreements. Other business opportunities are also being discussed for various onboard electronics and avionics.
SP's: How does BEL intend to further increase its export?
CMD: BEL has been exporting various products and services to various countries such as the United States, Germany, France, Sri Lanka, Switzerland, Indonesia, Vietnam, Myanmar, Italy, Namibia and Honduras. To increase the export business, BEL is continuously interacting with current and prospective customers for future business development and giving major thrust for a long-term relationship.
SP's: What has been BEL's contribution to defence exports?
CMD: BEL has achieved exports of $85.07 million in the financial year 2015- 16, registering a growth of 47 per cent over the previous year's export turnover. The export sales to the total sales turnover ratio for the financial year is 20 per cent.
SP's: Tell us about your JVs.
CMD: BEL has two joint venture companies — one with General Electric of USA and the other with Thales of France. The JVC with GE, GE-BE Pvt Ltd, manufactures medical equipment like CT Max and X-ray tubes and recorded a turnover of 79.5 crore in the year 2015-16. BEL has 74 per cent holding in the JVC with Thales, BEL-Thales Systems Ltd. The company is also in the process of forming a special purpose company with Rolta to address the Battlefield Management System programme. The defence segment continues to be BEL's main business and provides close to 80 per cent of revenues. In keeping with the modernisation plans of the Indian defence forces, BEL aims to grow at a rate of 12 to 15 per cent in the next 8 to 10 years.
SP's: Tell us about BEL's 'Make in India' initiatives?
CMD: BEL recognises outsourcing as one of the strategic tools to achieve cost benefits and also complement the strengths of the private sector to build a strong industrial base. Such initiatives will also help BEL to focus more on core areas and R&D. BEL has prepared the list of 358 items reserved for purchase from MSMEs and this is uploaded on its website. About 120 projects have already been identified for collaborative R&D and 180 partners including 75 MSMEs are empanelled.
The response to the initiative of outsourcing from private sector especially from MSMEs is overwhelming and BEL has added 782 new indigenous vendors during 2015-16 and approximately 400 Indian suppliers including MSMEs and start-ups are getting added every quarter to the vendor base of BEL. It has achieved procurement level of 20 per cent from MSMEs during 2015-16 against 8 per cent during 2014-15.