Falcon 8x Trijet
The Dassault Aviation group is showcasing its dual military and civil know-how at Aero India. Dassault Aviation's large-scale presence at this prestigious air show reflects the long-standing relationship of trust between the Group and its Indian customers.
The Indian Air Force has been flying Dassault aircraft since 1953 and the contract to acquire 36 Rafale, signed last September, is a continuation of this strategic, technological and industrial success story. In the field of business aviation, Indian companies are also turning to the Group, with about 20 Falcon already in service and promising prospects for the future.
Dassault Aviation's participation at Aero India is marked by the presence of three French Air Force Rafale, with daily flying displays. And the presence of a Falcon 8X, the flagship of the Falcon range, as well as a Falcon 2000LXS.
"On the occasion of this air show, Dassault Aviation recalls its complete determination to reinforce the partnership that unites it with India, in particular within the framework of the 'Make in India' policy developed by Prime Minister Narendra Modi. We thus hope to be in a position to satisfy the future needs of the Indian Air Force and naval aviation", declared Eric Trappier, Chairman & CEO of Dassault Aviation.
Falcon 8X trijet debut
The ultra-long range Falcon 8X trijet, as well as the Falcon 2000LXS twin are at the show. Dassault Aviation's new flagship Falcon 8X, which entered the market in October, was handed over to an Indian customer last month.
The 4,000 nm (7,410 km) Falcon 2000LXS offers a short-field capability comparable to smaller midsize business jet models but with a range and comfort level far better than those aircraft. Equipped with a next-generation EASy II flight deck and the FalconCabin HD+ cabin management system, the 2000LXS offers a combination of airport performance, cabin design and efficiency unique in its class. More than a dozen Falcon 2000 twins are currently in service in India.
Indian Market Leader
Dassault is a market leader in the Indian large cabin, long-range aircraft segment with more than 20 aircraft currently in service. Falcons are known for their versatility and their ability to fly into challenging hot-and-high airfields like those commonly found in and around India. They are widely recognised for their fuel economy and low operating costs, too.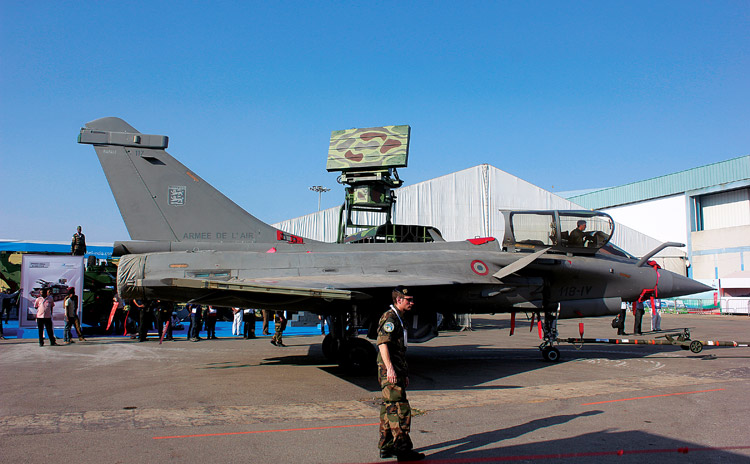 Rafale Multi - Role Fighter