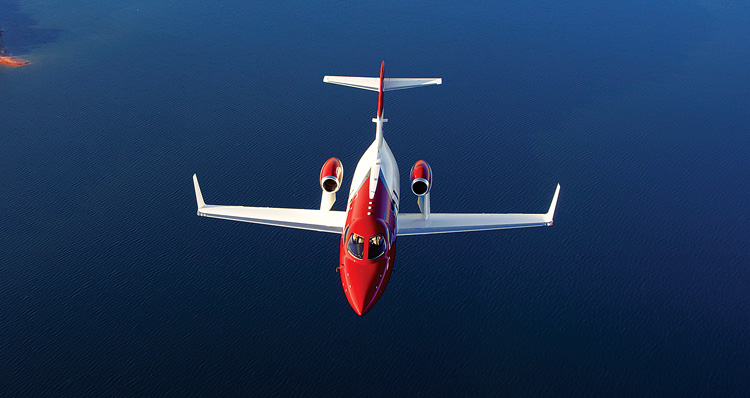 For nearly 70 years, Honda has been a trusted, respected and admired mobility company throughout the world. When Honda initiated research into an airplane, a dream of founder Soichiro Honda, the company decided to devote the time and resources to develop an aircraft completely from scratch, rather than implementing incremental changes to technology used by others. More than two decades ago, Honda Aircraft Company's president and CEO Michimasa Fujino sketched out his first concepts of the HondaJet. The clean-sheet aircraft was designed to provide the customer the best possible value by utilising cutting-edge technology, making Honda's dream of taking personal mobility skyward a reality.
The most visible of the technologies incorporated on the HondaJet is the Over-the-Wing Engine Mount (OTWEM). This approach strays from the conventional rear fuselage mounted engines. The aircraft's design also features a newly developed natural laminar flow (NLF) wing and fuselage nose, which reduces aerodynamic drag. Additionally, unlike many jets that use aluminum, the HondaJet uses a lighter yet stronger composite fuselage, engineered by Honda, created from a combination of integral stiffened panel structure and honeycomb sandwich structures. Certified for single pilot operation, the cockpit features a Honda-customised Garmin G3000, a next-generation, all glass avionics system with touch screen technology that offers the pilot enhanced navigation, flight planning and control.
The technologies utilised on the HondaJet are significant aeronautic breakthroughs engineered by Mr. Fujino and Honda after nearly 20 years of extensive research and development. These innovations contribute to the aircraft's superior performance and unparalleled efficiency, allowing the HondaJet to fly faster (422 knots) and cruise higher (43,000 ft) than any other jet in its category. They also maximise available fuselage space with comfortable seating for up to seven passengers including a pilot and a fully private lavatory, making the HondaJet's cabin and baggage capacity the largest in its category. Additionally, the aircraft's cockpit and avionics suite is based on an ergonomic design and enhanced situational awareness, allowing the pilot more space and greater visibility.
The technological advancements offered by the HondaJet provide corporate owners with the most productive, efficient and innovative business jet on the market. GE Aviation incorporated HondaJets into their corporate fleet and found that the HondaJet was a productivity tool for their corporation as many of their manufacturing sites cannot be reached directly by commercial airlines. They were able to take day trips to these locations and reduce travel expenses. GE Aviation's experience is just one example of how HondaJets are changing the game for large organisations.
The HondaJet is also setting the standard for personal business jet usage. Hoteliers Julian and Kim MacQueen are owner-operators of their HondaJet and recently completed their "Around the World in 80 Stays" flight, where they travelled the world for inspiration for their business, Innisfree Hotels. The MacQueens visited 30 countries and traveled more than 28,000 nautical miles, setting several speed records and experiencing outstanding dispatch reliability during their trip. They were able to conveniently experience new places to gain more knowledge of the hospitality industry in areas not easily accessed through direct commercial flights. Following their trip around the world, they use their HondaJet to travel to daytime business meetings and return in time to enjoy their evenings.
What began with one engineer's dream and a pencil sketch is now a state-of-the-art aircraft production company manufacturing the most technologically advanced light jet. A proven industry disruptor, the HondaJet was the most delivered aircraft in its category in 2017, has broken 13 speed records and has been certified and delivered in countries around the globe. The combination of Honda's powerhouse reputation, Mr. Fujino's passion for innovating cutting-edge technologies and a commitment to ensuring no small detail is overlooked makes the HondaJet a game changer in business aviation.
Come, experience the HondaJet and learn how it could change your life by visiting the display at Begumpet Airport in Hyderabad during Wings India.
HondaJet Backgrounder
BACKGROUND:
The HondaJet HA-420 is an advanced light jet with revolutionary technology and design attributes that help it achieve far better fuel efficiency, more available cabin and luggage space, higher cruise speed and higher operating altitude than conventional aircraft in its class. The HondaJet is certified in the United States (FAA), Mexico (DGAC) Europe (EASA), Canada (Transport Canada) and Brazil(ANAC). The aircraft is certified for single pilot operation.
HONDAJET ADVANCED TECHNOLOGIES:
The HondaJet design incorporates a number of innovations that were developed through extensive research conducted by Honda. These include the patented HondaJet Over-The-Wing Engine Mount (OTWEM) configuration, Natural Laminar Flow wing and nose, and composite fuselage structure.
These advanced technologies allow the HondaJet to achieve the highest speed (422 knots at FL300), highest altitude (43,000 feet), and best fuel efficiency (approximately 15 per cent for a typical mission) in its class.
A patented Over-The-Wing Engine Mount (OTWEM) configuration was developed using advanced concepts in aerodynamics and design simulation. The OTWEM configuration eliminates the carry-through structure of conventional fuselage-mount designs, allowing for greater use of fuselage space for the cabin and external cargo areas. The configuration is also designed to reduce cabin noise. By optimisation of the design and placement of the engine nacelles, the HondaJet OTWEM configuration actually exhibits less drag at high speeds than conventional "clean wing" designs, contributing significantly to the aircraft's superior performance and efficiency.
A Natural Laminar Flow (NLF) wing and fuselage nose were developed through extensive analyses and wind tunnel testing. These designs help achieve lower aerodynamic drag at high speeds together with a high lift coefficient.
An advanced composite fuselage structure, consisting of a unique combination of honeycomb sandwich and stiffenedpanel structures. The structure is joined using a patented integral co-curing process that reduces weight for optimal performance and payload capacity, while also reducing manufacturing complexity.
Honda partnered with Garmin to develop the first highly customised and highly automated avionics suite. HondaJet has a sophisticated flight deck with three 14-inch landscape displays and two touchscreen controllers that allow pilots enhanced navigation, flight planning and system control.
BASIC DESIGN SPECIFICATIONS:
Maximum Cruise Speed @ FL300 422KTAS (486 mph) Maximum Cruise Altitude FL430 (43,000 ft) Pressurisation (Differential) 8.6 psi
Range Performance: NBAA IFR Range (4 occupants) 1223 nm Rate of Climb 3,990 ft/min
Engines: Manufacturer / Model GE HONDA / HF120 (x2) Output (Uninstalled) 2050 lbf/each - derated from 2095 lbf/each Bypass Ratio 2.9
External Dimensions:
Height 14.90 ft (4.54 m) Length 42.62 ft (12.99 m) Wing Span 39.76 ft (12.12 m)
Cabin Dimensions:
Height 4.83 ft (1.47 m) Width 5.00 ft (1.52 m) Length (Fwd. pressure bulkhead to aft pressure bulkhead) 17.80 ft (5.43 m)
Seating:
Typical Configuration 1 crew + 5 passengers (2 crew + 4 passengers) Alternative Configuration 1 crew + 6 passengers (2 crew + 5 passengers)
Baggage Capacity:
Nose Baggage Compartment 9 cubic feet (0.25 cubic metres) Aft Baggage Compartment 57 cubic feet (1.61 cubic metres)