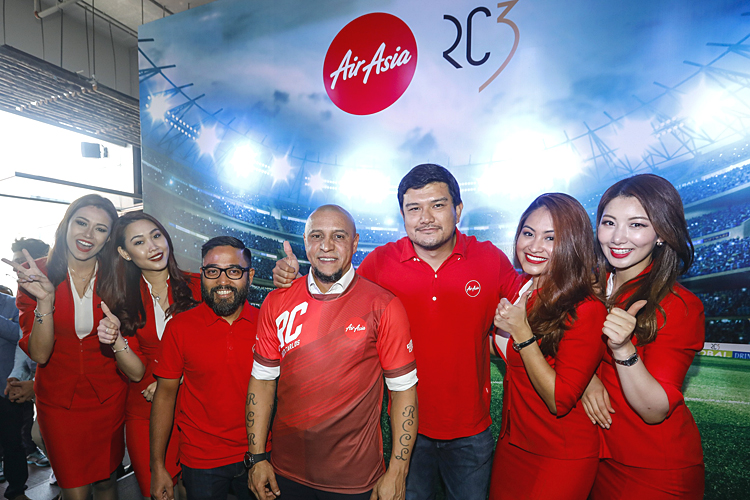 Football legend Roberto Carlos (middle) with Riad Asmat, CEO of AirAsia Malaysia (middle left), and Benyamin Ismail, CEO of AirAsia X Malaysia (middle right) as AirAsia unveils its latest global brand ambassador.
AirAsia today announced the appointment of legendary Brazilian footballer Roberto Carlos as a new global brand ambassador.
The announcement was made at Aloft Kuala Lumpur Sentral with AirAsia Malaysia CEO Riad Asmat and AirAsia X Malaysia CEO Benyamin Ismail in attendance.
AirAsia Group CEO and AirAsia X Co-Group CEO Tan Sri Tony Fernandes said, "No one embodies the dare to dream spirit like Roberto Carlos. From playing on streets of Garça and deciding to be a professional footballer at 12 to the amazing free kick against France and winning the World Cup, he has shown that when he wants something, he will see it through to the end. We couldn't be more proud to have such a fighter in our roster of world champion brand ambassadors."
Newly appointed AirAsia global ambassador Roberto Carlos said, "In Brazil, we say, 'Because we suffer so much, we value football.' This shows you can succeed no matter where you come from as long as you believe and work hard, and I am thrilled to represent a brand like AirAsia, which prides itself in making dreams come true."
Carlos, nicknamed "The Bullet Man" for his powerful free kicks, has represented Brazil at three FIFA World Cup tournaments, and was part of the team that won the 2002 World Cup hosted in South Korea and Japan.
At club level, playing for Real Madrid, Carlos has won four Spanish La Liga titles as well as the UEFA Champions League three times in 1998, 2000 and 2002.