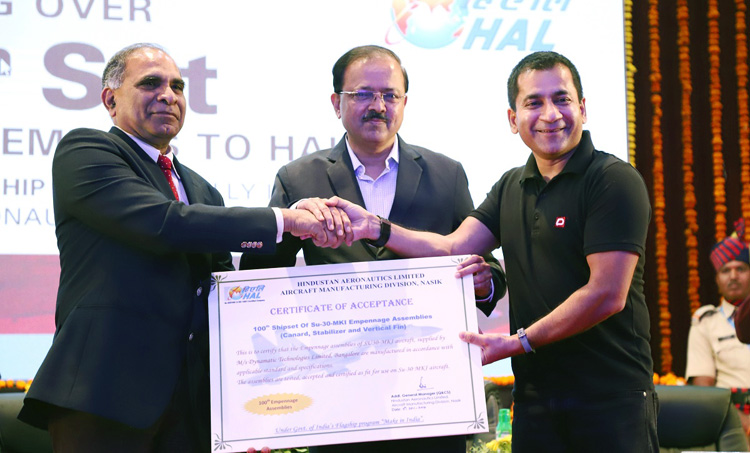 Udayanth Malhatra, CEO&MD of Dynamatic Technologies Limited (Bengaluru) symbolically handed over 100th Ship set of Su-30 MKI Assemblies to T. Suvarna Raju in the presence of RRM.
Expressing his support for the defence public sector aviation major, Hindustan Aeronautics Limited (HAL), Minister of State for Defence, Subhash Bhamre has said that its facility is of national importance and will continue to get work.
He was speaking at Public Private Partnership (PPP) Summit under Make-in-India held at HAL, Nashik on December 10.
"HAL has the world class facilities and given the successful integration of BrahMos on Su-30 MKI, 40 more aircraft will undergo such integration. Besides this, HAL can shift part of its LCA manufacturing at Nashik and there is possibility of FGFA work happening at Nashik", Bhamre said while addressing the event.
Speaking on the HAL's order book beyond 2021-22, the Minister said, "HAL's facility is of national importance and cannot be allowed to be idle. With the availability of state-of-the art infrastructure and expertise built over the years, additional orders on HAL would help IAF bridge the gap between the existing and desired squadron strength in the shortest possible time."
Citing HAL's collaboration with private sector as a model, the Minister said that there is a need for larger ecosystem of Private Enterprises to transform themselves for greater participation in the aerospace sector to support the 'Make in India' initiative.
HAL outsources 30 percent of its man hour work to private vendors.
During the event, T. Suvarna Raju, Chairman and Managing Director (CMD) HAL received the delivery of 100th ship set of Su-30 MKI assemblies from Udayant Malhoutra, CEO and MD of Dynamatic Technologies.
Speaking on the occasion, Raju said that HAL would like to offer the indigenous helicopter 'ALH Dhruv' (Civil version) for manufacturing to select Indian private companies through Transfer of Technology (ToT).
HAL is expected to float a Request for Information (RFI) in near future to identifying an Indian Private firm that can produce Dhruv helicopters in future.
There is a huge domestic demand for civilian helicopters in India and HAL wants to pitch its Dhruv helicopters for this untapped market.
The civil version of Dhruv can be used for short distance passenger transport, VIP travel, search and rescue, emergency medical service, underslung load, disaster relief, offshore operations in varying and challenging geographical terrains.