India-Nepal Joint Military Exercise Surya Kiran-XII, pitched at battalion level, was conducted at Nepal Army Battle School (NABS), Saljhandi, Nepal from September 3 to September 16, 2017. In this exercise, approximately 350 troops from both Indian Army and Nepal Army shared their experiences gained during conduct of various Counter Insurgency and Counter Terrorism operations. Together, both the Armies stand to benefit mutually from their shared experiences.
The Surya Kiran series of Exercises are being conducted annually, alternatively in Nepal and India. Notably in the series of military training exercises undertaken by India with various countries, Surya Kiran series with Nepal is the largest in terms of troop participation. The aim of this exercise is to conduct battalion level joint training between Indian and Nepalese Army with emphasis on Counter Terrorism in mountainous terrain by facilitating interoperability. Aspects of disaster management and the requirement of joint and concerted effort towards relief work have also been included in the exercise.
The joint training, mutual interaction and sharing of experiences during exercise not only promotes cordial military relations but also further strengthens cultural and historical ties between the two nations.
The Indian Army was represented by troops of the KUMAON SCOUTS while Narayan Dal Battalion participated on behalf of the Nepal Army.
The aim of the exercise was to train troops in Counter Insurgency/ Counter Terrorism Operations in both jungle & mountainous terrain and disaster management. The Joint Battalion Level Exercise being the largest exercise undertaken by India with any other country was an ideal platform for the contingent of both nations to share their experiences and mutually benefit from the joint training.
As part of the exercise important lectures, demonstrations and drills related to Counter Insurgency / Counter Terrorism Operations and Disaster Management were conducted by Indian Army to share their experiences in handling such situations with a view to conduct such operations jointly and refine drills and procedures.
The training culminated with a 72 hours outdoor exercise in which troops of both contingents carried out a Cordon and Search Operation in a mock Counter insurgency village.
Besides training, both the contingents also participated in number of extracurricular activities including friendly football, basketball, volleyball matches and a cultural programme on the final day. The joint training was an unprecedented success. Besides promoting understanding and interoperability between the two armies, it helped in cementing ties between both nations.
The author is former Commandant of Army War College, Mhow in Madhya Pradesh, India.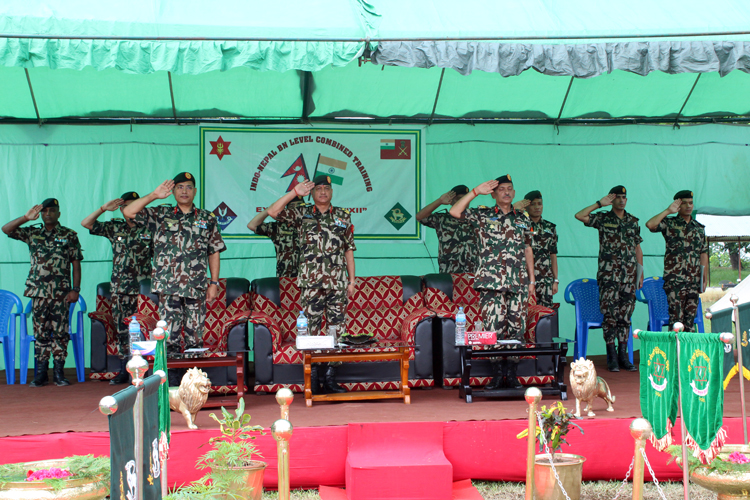 Chief Guest along with Cmdt NABS and Exercise Director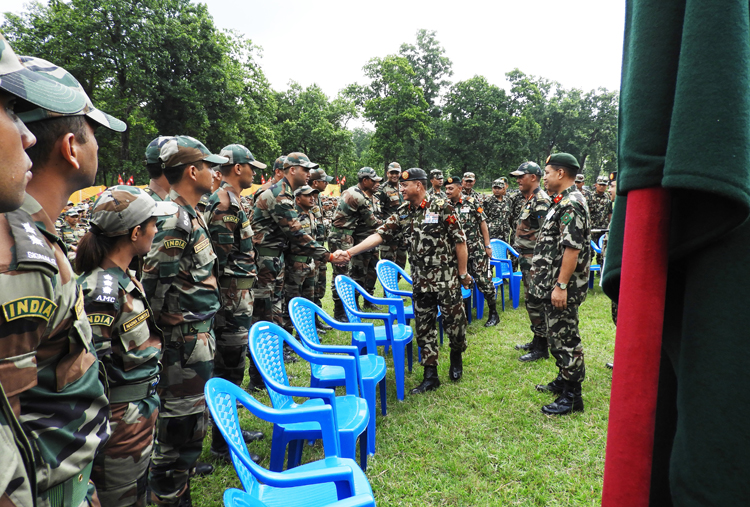 Chief Guest from Nepalese Army interacting with officers of Indian Army
RMO, Capt Naina Tamata interacting with soldiers
Bomb disposal equipment on display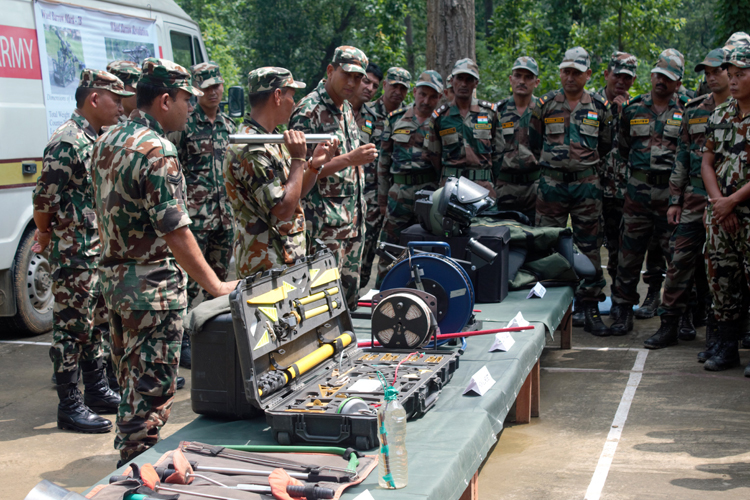 Bomb disposal equipment on display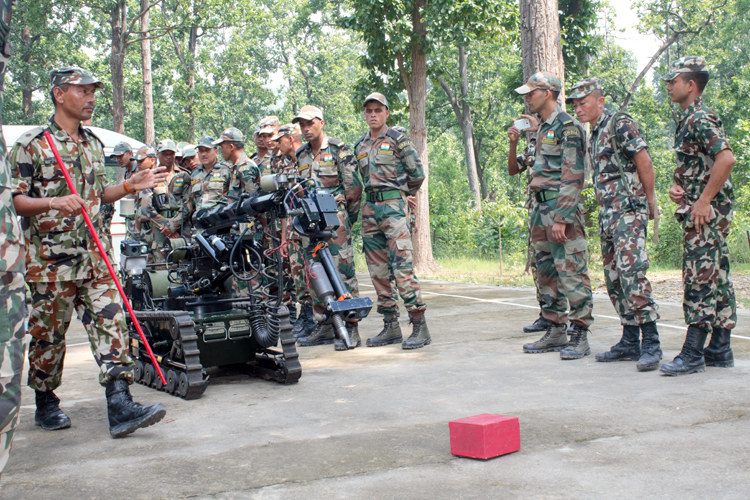 Bomb disposal robot equipment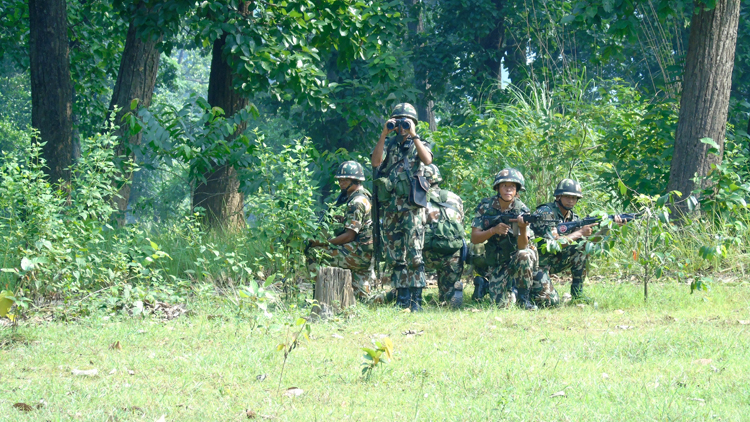 Ambush demo by Nepalese Army
Moving target firing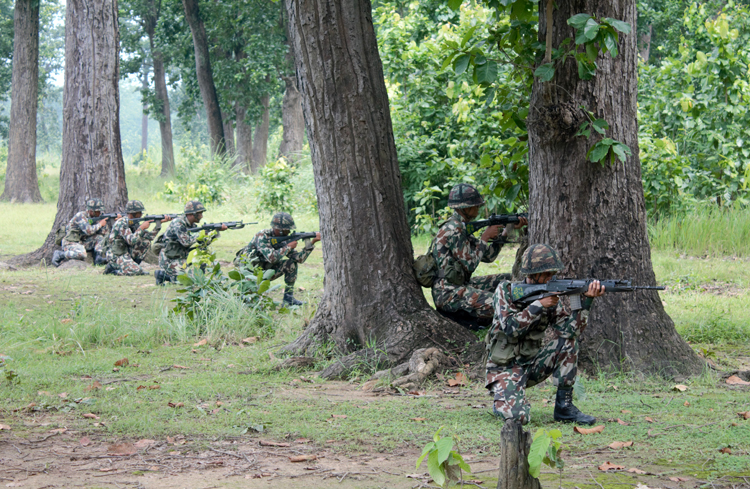 Cordon and Search Operations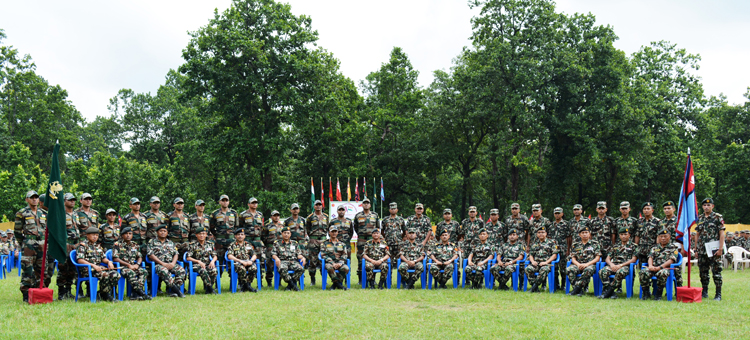 Group photograph of officers participating