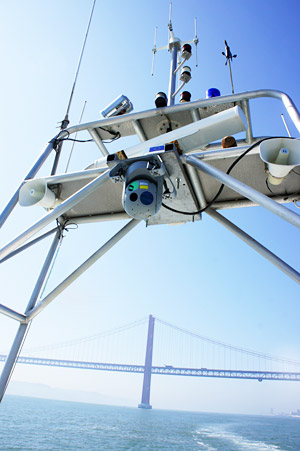 CONTROP iSea-20HD Compact EO/IR Payload
for Small Boats
CONTROP Precision Technologies Ltd.- a company specializing in the field of electro-optics (EO) and infrared (IR) defense and homeland security solutions - announces the release of the new iSea-20HD - High Definition (HD) EO/IR camera payload for small boats. The introduction of the new iSea-20HD completes CONTROP's iSea family offour (4) EO/IR payloads with HD capabilities, including the iSea-30HD, iSea-40HD, iSea-50HD and now the new iSea-20HD.
The newiSea-20HD is a compact and lightweight (9.4" diameter 24 lbs.) payload, which includes a high resolution Thermal Camera with x15 continuous zoom lens, HD color continuous zoom Day Camera with Low Light Mode and an EyesafeLaser Range Finder (ELRF) and/or Laser Pointer as options.
The addition of the new iSea-20HD to CONTROP's family of EO/IR payloads compliments CONTROP's wide variety of options for all maritime missions and platforms - from the iSea-20HD 9.4" 24 lbs. system up to the iSea-50HD 14" 66 lbs. system. These camera payloads are used worldwide for Coast Guard and Maritime surveillance/observation applications and provide an outstanding man-machine interface (MMI) and flexibility. CONTROP's EO/IR camera payloads are installed on many different maritime platforms.
CONTROP's VP Marketing for the Asia Pacific Mr. Johnny Carni added that, "The system's thermal imager with thecontinuous zoom lens makesthe iSea-20HD ideal for day and night surveillance applications, particularly on small boats. Its high stabilization allows the payload to provide a clear picture even when in rough waters. By adding the iSea-20HD to our iSealine of maritime payloads, we are able to provide a variety of different sizes HD payload options to meet any size/weight/budget requirements. Now, even if there are tight budgetary restrictions, we can provide our customers with the best-suited high performance HD payload to meet their needs. Since we offer these fully gyro-stabilized camera payloads at very competitive prices, we are providing our customers with an unmatched price/performance ratio."