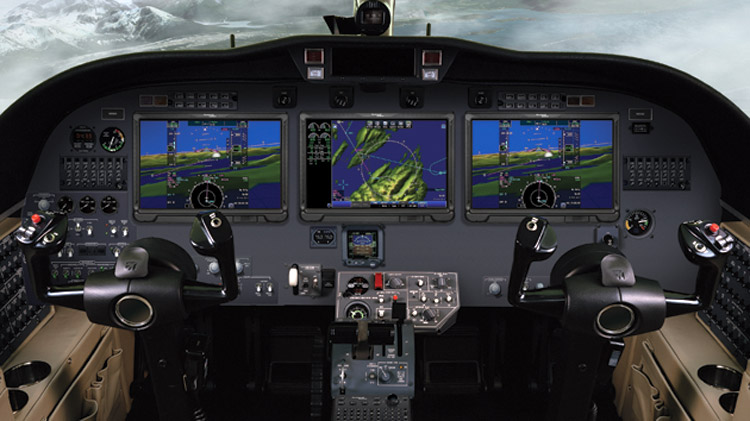 With Pro Line Fusion, CJ3 operators will have an all-in-one, turn-key flight deck solution for meeting airspace mandates, and gain significant situational awareness
An upgrade to the Rockwell Collins Pro Line Fusion® integrated avionics for the Cessna Citation CJ3 business jet has been certified by the Federal Aviation Administration (FAA). The upgrade is available throughout the U.S. from Duncan Aviation's three main full-service facilities and a number of its 26 avionics satellite and workaway locations, and Textron Aviation's 12 company-owned service centers.
The upgrade for the CJ3 provides turn-key compliance with airspace modernization deadlines and transforms the flying experience with widescreen displays, high-resolution synthetic vision and touchscreen navigation. So far, more than 20 customers have secured their upgrade in order to be equipped with ADS-B by the 2020 deadline. The first installation was completed by Duncan Aviation and the first customer to take advantage of the upgrade to Pro Line Fusion is expected to fly later this week.
"The clock is ticking to get aircraft equipped for airspace modernization deadlines and this all-in-one alternative brings turn-key compliance for CJ3 operators with a modern interface and feature set found on new aircraft," said Craig Olson, vice president and general manager, Business and Regional Systems for Rockwell Collins. "Pilots will fall in love with this new flight deck after seeing how it makes the most complicated tasks simple, and the additional situational awareness it brings."
Pro Line Fusion for the CJ3 replaces the factory-installed portrait displays with three larger 14.1-inch landscape touchscreen flight displays. The upgrade brings compliance with ADS-B and WAAS LPV, plus pilots will enjoy extensive situational awareness, synthetic vision and a revolution in simplicity. The system includes intuitive, touch-interactive maps and easy-to-use icons, giving the pilot the ability to control items on the screen through touch. It also eliminates the need for Flight Management System (FMS) control display units originally installed in the pedestal.
Rockwell Collins is currently working with Transport Canada for type certification validation of the Pro Line Fusion upgrade for the CJ3 and will soon be working on validation with the European Aviation Safety Agency (EASA).