Arun Jaitley, Hon'ble Raksha Mantri inaugurated the biannual Air Force Commanders' Conference at Air Headquarters (Vayu Bhawan), New Delhi on 19 April 2017. Air Chief Marshal B S Dhanoa, Chief of the Air Staff (CAS) welcomed Arun Jaitley, Hon'ble Raksha Mantri, G Mohan Kumar, Defence Secretary and A K Gupta, Secretary (Defence Production). He also introduced the Air Force Commanders to the Hon'ble Raksha Mantri.
The CAS updated the Hon'ble Raksha Mantri on the operational status of IAF and the progress on infrastructure development. He highlighted the efforts made to enhance aircraft serviceability towards maintaining operational readiness of Indian Air Force. Achievements during the recently conducted pan IAF and international exercises with friendly foreign countries were also covered by the CAS. He further elaborated the actions initiated for enhancing operational effectiveness and the future roadmap of IAF.
The Hon'ble Raksha Mantri deliberated on the challenges to Defence Forces due to the rapidly changing geo-political situation in the world and the uncertainties existing in the region. He commended IAF for having successfully conducted various military exercises and operations towards Humanitarian Assistance and Disaster Relief both within and outside the country. Acknowledging IAF's capability as the first responder especially in face of a natural calamity he emphasised the resolve of the government in expediting approved modernisation programmes of the Service.
During the three day conference, senior leadership of the IAF would deliberate on issues pertaining to enhancement of combat effectiveness and development of human resources and infrastructure. To encourage indigenisation and enhance self-reliance in defence manufacturing a day long interactive session has been planned with delegations from HAL, BEL and other Defence PSUs. The CAS would also present trophies for excellence in various domains including cyber, communication, sports and welfare activities.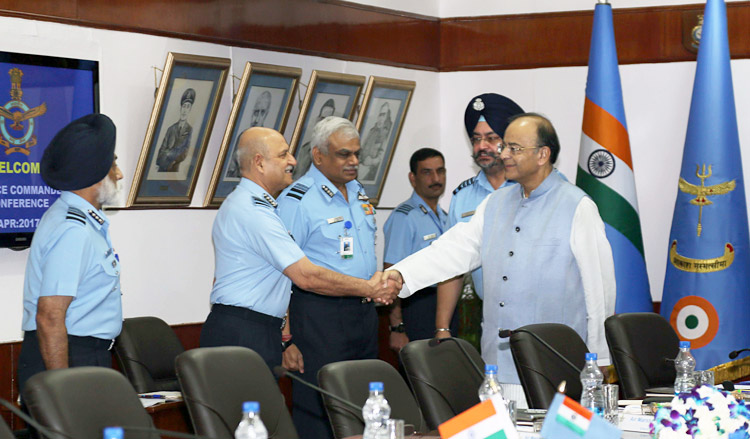 Air Force Commanders are being introduced to Hon'ble Raksha Mantri Arun Jaitley by Chief of the Air Staff Air Chief Marshal BS Dhanoa during inaugural day of Air Force Commanders' Conference held at Air Headquarters (Vayu Bhavan), New Delhi today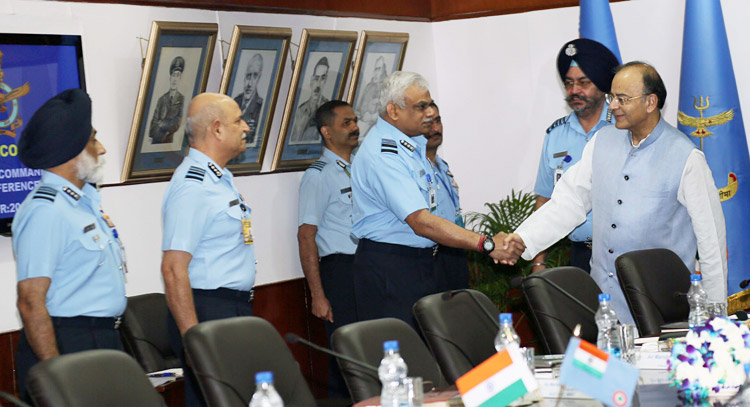 Air Force Commanders are being introduced to Hon'ble Raksha Mantri Arun Jaitley by Chief of the Air Staff Air Chief Marshal BS Dhanoa during inaugural day of Air Force Commanders' Conference held at Air Headquarters (Vayu Bhavan), New Delhi today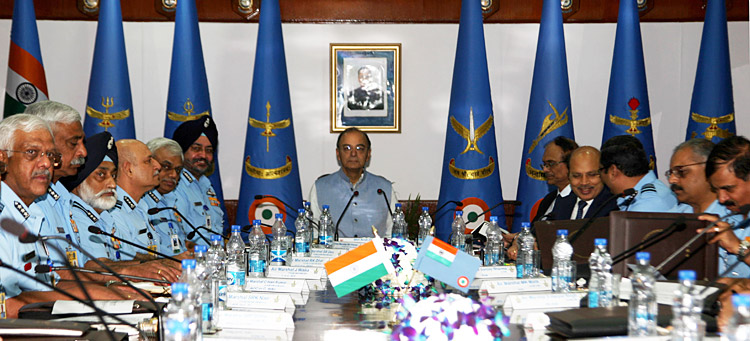 Hon'ble Raksha Mantri Arun Jaitley interacting with Air Force Commanders during inaugural day of Air Force Commanders' Conference held at Air Headquarters (Vayu Bhavan), New Delhi today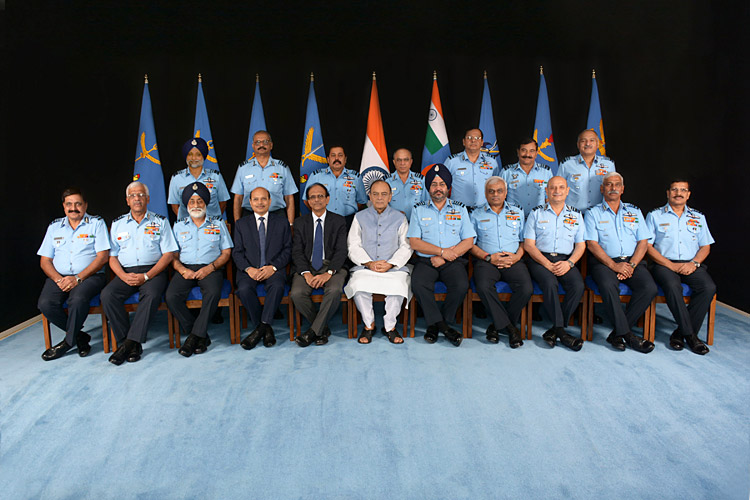 Hon'ble Raksha Mantri Arun Jaitley with Chief of the Air Staff Air Chief Marshal BS Dhanoa, Air Force Commanders and senior officials of Ministry of Defence on the inaugural day of Air Force Commanders' Conference at Air Headquarters (Vayu Bhavan), New Delhi today