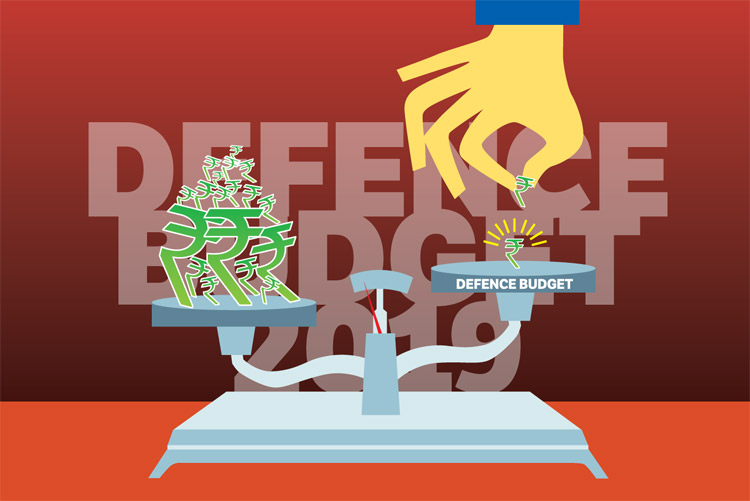 India on February 1 announced a budgetary allocation of over 300,000 crore ($42.2 Billion) for Defence in the interim budget for 2019-20 which was presented by the officiating Finance Minister Piyush Goyal to Parliament in New Delhi.
"The defence budget has exceeded 300,000 crore for the first time ever," Goyal said in his Budget speech, adding that the government would provide additional funds for defence if needed.
The Budget Estimate for Defence for 2018-19 was 295,000 crore, which amounted to 12.10 per cent of the total Budget of 2442000 crore.
Minister Goyal also said 35,000 crore has already been disbursed for military veterans under One Rank One Pension (OROP) scheme. A substantial hike in military service pay has been announced he added.
UPDATES
Outlay for Defence: 3,18,931.22 Cr
Defence Pensions: 1,12, 079.57 Cr
The Defence Outlay accounts for 8 per cent of the total budgeted expenditure of the Government of India. Along with Defence Pensions, it is 15.48 per cent of the total Central Government expenditure for 2019-2020.
The allocation of 3.18,931.22 Cr represents a growth of 7.93 per cent over the Budget Estimates (2,95,511.41 Cr) and 6.87 per cent over Revised Estimates (2,98,418.72 Cr) respectively for FY 2018-19.
Out of the 3,18,931.22 Cr allocated for the financial year 2019-20, 2,10,682.42 Cr is for Revenue expenditure and 1,08,248.80 Cr for Capital expenditure.