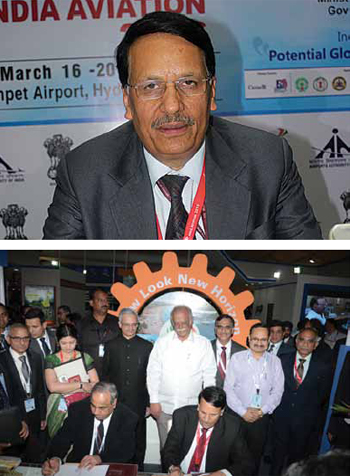 (Top ) B.P. Sharma, Chairman and Managing Director of Pawan Hans (Above) Pawan Hans & IRCTC Signing the memorandum of understanding (MoU)
Pawan Hans Limited is discussing with Airbus Helicopters to set up a maintenance, repair and overhaul (MRO) facility in Juhu airport, Mumbai soon. With helicopter fleet of Pawan Hans likely to go up from present 45 helicopters to 145 in the next 10 years and also the rotor industry growing in India, the MRO will provide quick after service.
The Chairman and Managing Director of Pawan Hans, B.P. Sharma told a press conference that the company's focus would be emergency medical services (EMS) and law enforcement. Pawan Hans is accordingly working out a business plan, in conversation with hospitals, insurance companies and other stakeholders.
He said that in the next 10 years investments worth 50,000 crore would be coming into the aviation sector in helicopters, MRO and other services. Presently, India has about 270 helicopters in India, which is almost the size of the helicopter market in Rio de Janiero, but with expanding growth the estimate is that there would be additional 600 to 800 helicopters in the next 10 years.
Signs MoU with IRCTC
If the helicopter sector has to grow in India, he said, it was imperative for creation of infrastructure, particularly heliports, heli-hubs and afterservice support. The country's first heliport, he said, would come up in Rohini, Delhi by June this year.
Pawan Hans Ltd. (PHL) and Indian Railway Catering & Tourism Corporate (IRCTC) has signed an memorandum of understanding (MoU) to jointly promote Heli Tourism for the National & Interntional Tourists.
Under the MoU, Pawan Hans and IRCTC will collaborate on an exclusive basis to develop a marketing and opertaional plan to reach and provide Heli service in every nook and cornor of the country.
By joining forces, PHL, India's National Carrier for helicopter operations with extensive experience operating at several locations across India. We are excited to conduct a detailed review of bt e best way to introduce and deliver a truly world class heli tourism services into India.