The unique stall put up by the Airports Authority of India (AAI) at the India Aviation Exhibition has attracted many visitors. What makes it stand apart from the other pavilions is that it gives the visitor a feel of being in an airport. Measuring 204 sq.mtrs, the stall contains miniature versions of terminal building, Air Traffic Control Tower, Runway and Aircraft.
In addition to this, it also depicts details of achievements of AAI, infrastructure development, cargo activities and other new technologies adopted by AAI for the smooth flow of traffic from Indian Airports. Due to the uniqueness of the booth, it attracted huge number of visitors and saw tremendous footfalls on all the days of the show.
The India Aviation Show 2016 is being jointly organized by AAI and FICCI under the patronage of the Civil Aviation Ministry. The five-day, biennial event is being held at Begumpet Airport of AAI in which corporate companies from all over the world are taking part.
The AAI stall was inaugurated by Minister of Civil Aviation P Ashok Gajapati Raju in the presence of Anil Shrivastava, Joint Secretary, Ministry of Civil Aviation and R K Srivastava, Chairman, AAI and other officials.
Airports in Jaipur and Lucknow which are managed by the Airports Authority of India, have won the first and second place of the 2015 Airport Service Quality (ASQ) Awards in the category of 2 to 5 million passengers per annum. The ASQ awards, organised by the Montreal-based Airports Council International, are the result of more than 55,000 in-depth passenger satisfactions surveys carried out last year at more than 300 airports across 80 countries. The Goa and Trivandrum airports are at 4th and 5th positions in the same category. In the category of Airports upto 2 million passengers per annum, Airports Authority of India's Srinagar Airport has been rated as the second best airport in the World.
"This is really a great achievement. We have been working very hard to improve the customer facilities. Difference facilities available at the terminal as well as the city sight and the facilities given to the different airlines who are operating from different terminals. Our people have worked very hard and they have brought this laurel to the Airport authority to India," said R.K. Srivastava, Chairman, Airports Authority of India.
Airports Authority of India owns and maintains 125 airports comprising 95 operational airports in the country.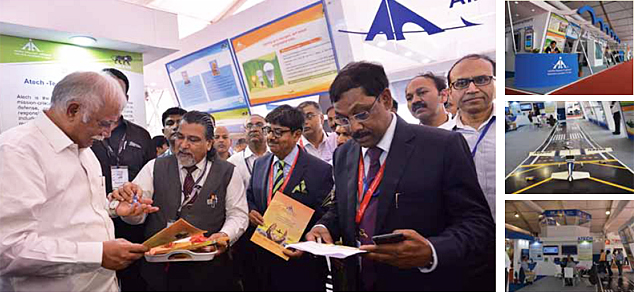 (Right to Left) Union Minister of Civil Aviation, P. Ashok Gajapathi Raju, inaugurated the AAI stall in the India Aviation 2016 Exhibition being held at Begumpet Airport, Hyderabad, in the presence of Anil Shrivastava, Joint Secretary, Ministry of Civil Aviation, R.K. Srivastava, Chairman, AAI and G.S. Bawa, GM (PR), AAI