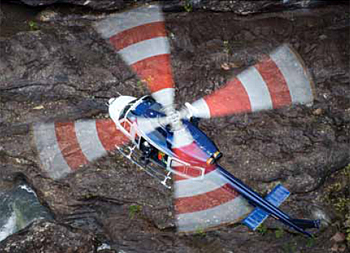 Bell 412EPI Helicopter
Since the Bell 412 was first introduced in, customers have come to rely on the aircraft's capabilities and versatility in accomplishing a wide range of missions including utility, commercial and parapublic operations that includes search and rescue. The legacy of the Bell 412 continues to make its mark on the industry with the enhancements made on the Bell 412EPI that entered the market in March 2013.
"The Bell 412 is known around the world for its rugged reliability to perform the toughest of missions, and the new EPI offers improved performance with a state-of-the-art integrated avionics suite that improves situational awareness and reduces pilot workload," said Sameer Rehman, Bell Helicopter's Managing Director of Asia Pacific.
The Bell 412EPI is a multi-mission capable aircraft first introduced in March 2013. It improves on the Bell 412EP platform with the Bell BasiX Pro™ fully integrated glass flight deck, providing critical flight information at a glance for greater situational awareness and safety, allowing it to operate in a variety of mission sets including search and rescue, corporate transport, utility and military operations.
The avionics suite also includes high resolution digital maps, electronic charts and approach plates, ADS-B transponder and optional HTAWS and XM satellite links. The Bell 412EPI also incorporates the power of Pratt and Whitney's PT6T-9 Twin Pac® engines, providing 15 percent more horsepower than the standard Bell 412. The Bell 412EPI features the BLR Strake and FastFin® system, which modifies the tailboom to optimize airflow and improve handling, safety and lift.
With a max cruise speed of 122 knots, max range of 364 nautical miles and useful load of 4,829 lbs pounds, the Bell 412EPI is designed to bring enhanced value to customers, who include the Canadian Coast Guard, the Czech Police, Aomori Prefecture, Japan, and the National Operations Centre Air Division (NOCAD), Trinidad &Tobago.
"We know the entire globe is relying on our aircraft to complete their missions, and we are honored by our customer's noble missions around the world," added Rehman.