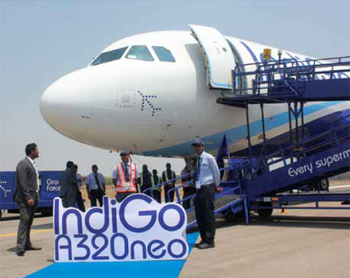 Dr Srinivasan Dwarakanath, President of Airbus in India
With an estimated 10 per cent annual traffic growth rate over the next decade, India will require over 1,600 new passenger and freighter aircraft in the next ten years to help meet the growing demand, the President of Airbus in India Dr Srinivasan Dwarakanath and Joost Van der Heijden, Vice President (Marketing) told the media on the sidelines of the ongoing India Aviation Show 2016 at Hyderabad.
The demand includes 1,200 single aisle and 400 wide-body aircraft with a total market value of $224 billion. India is well on its way to become the third largest aviation market by 2034.
Presenting a bullish outlook for Indian civil aviation sector, the two senior executives of Airbus said their company was a proud partner in Prime Minister Narendra Modi's 'Make in India' initiative to create a robust eco-system for improving air connectivity in the country.
"Every Airbus aircraft is partly made in India," declared Dwarakanath while outlining his company's initiatives in fostering cooperation and helping Indian aerospace and aviation sector grow substantially over the last few decades.
"India's preference for Airbus aircraft was further consolidated in 2015 with 250 new firm orders, lifting the market share of orders and the inservice fleet to over 70 per cent. At present, about 56 per cent of India's in-service fleet are Airbus aircraft operated by most leading Indian carriers. This includes India's first A320neo, the first to be delivered in the Asian region," Dwarakanath said.
The air traffic growth in India is being driven by urbanisation and growth in wealth with the number of middle classes expected to increase by 50 per cent to touch 600 million by 2024. By 2034, the number of Indian cities with over one million monthly air passengers will more than triple, the Airbus officials said. Today, four Indian megacities each handle over one million passengers each month. This number is expected to go up to 14 by 2034.
The traffic serving the Indian market is set to grow at 8.4 per cent per year over the next 20 years, well above the world average of 4.6 per cent. The domestic Indian traffic will grow more quickly at 9.3 per cent, making India the world's leading emerging aviation market. By 2034, Indian passengers on an average will each make four times as many flights as they do today.