Unlike Defence public sector, engineering conglomerate Larsen & Toubro is emerging as defence sector leader with products for all spheres of battle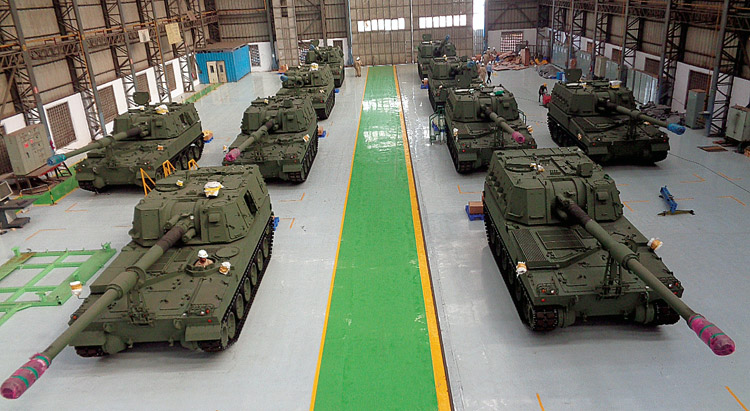 Larsen & Toubro (L&T) is expanding its capabilities in all major domains of defence products, ranging from missiles, artillery and rockets, armoured vehicles, ammunition, naval ships to submarines. In last one year, it has successfully delivered naval ships and signed artillery contracts.
In 2017, company crossed many milestones. On October 27, L&T launched, entirely designed in-house, the lead offshore patrol cessel (OPV) of a series of seven OPVs for the Indian Coast Guard (ICG). This was the first OPV class vessel for the ICG that has been built by a private sector yard. In March 2015, L&T signed a contract with Ministry of Defence for these seven OPVs for an order value of 1,432 crore. Again on June 20, company launched 468 crore Floating Dock (FDN-2), in-house designed and built, for Indian Navy. The FDN-2 will be delivered at Port Blair. Speaking on the launch, Jayant Patil, Whole-time Director, had said, "It is an affirmation of the in-house capabilities and track record of L&T that we are launching the FDN-2 for the Indian Navy ahead of schedule today."
Besides surface vessels, L&T is one of the main contenders for Indian Navy's Project 75-(I) six conventional submarine programme. It is well know that the company has contributed significantly to the Indian nuclear submarine programme.
Similarly, L&T is part of the surface-to-air Akash missile and multi-barrel rocket launching Pinaka system. L&T has joined hand with French missile leader 'to develop and supply missiles and missile systems to meet the growing potential requirements of the Indian armed forces'.
In May 2017, foraying into artillery manufacturing, L&T signed a contract with MoD "for supply of 100 units of 155mm/ 52 calibre Tracked Self- Propelled Gun systems to the Indian Army" for 4,500 crore.
In 2011, India came up with 'Buy Global' program for which L&T and South Korean Hanwha Tech Win (HTW) participated with K9 VAJRA-T - an enhanced version of HTW's K9 Thunder, with 50 per cent indigenous content. L&T intends to delivers all 100 guns in 42 months. This will be so unlike artillery modernisation plan which is decade behind its schedule.