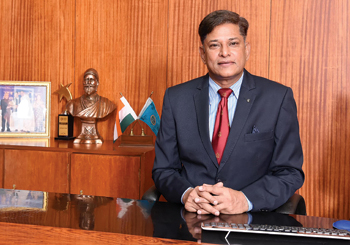 Rear Admiral Shekhar Mital (Retd), CMD, GSL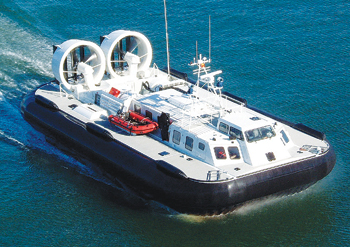 Hovercraft
The Goa Shipyard Limited (GSL), a public sector shipyard, has played a significant role in furthering the self-reliance policy of the nation. With an unmatchable track record of timely execution and fixed cost delivery of over 215 ships and 125 fast interceptor boats, today GSL stands as the success story of the changing face of Indian defence shipyards.
The company has achieved nearly 40 per cent growth in top-line in last two years with bottom line turning positive from a loss of 61 crore in FY 2013-14 to net profit of 77 crore in FY 2014-15, thereby registering a sharp turnaround. The excellent financial results achieved are clearly a result of new policies, strategic realignment of priorities coupled with cost control initiatives and close project monitoring introduced at various levels.
The Chairman and Managing Director of GSL, Rear Admiral Shekhar Mital (Retd) said GSL's passionate pursuit for excellence combined with its flexible, decentralised management philosophy to meet the demands and rapidly changing requirements of a varied clientele, has placed it on top of the league amongst Indian shipyards.
Design Capability: GSL's core competency is based on its in-house design capability, which furthers the 'Make in India' policy of Government of India (GoI). It is the only shipyard in the country engaged in the entire design spiral of ships, leading from Concept design to Basic design to Detailed design and has consequently grown into a fully recognised R&D Centre by the Department of Scientific and Industrial Research, Ministry of Science and Technology, GoI. Today the yard designs and builds amongst the best patrol vessels in the world in terms of quality, aesthetics, cost and delivery time, he stated.
Exports and Future Orders: GSL has an export order book of over 1,200 crore and has diversified product range including OPVs, FPVs, missile boats, survey vessels, LCUs, tugs, etc. As part of further diversification activities, the shipyard undertakes construction and setting up of various kinds of simulators. With major in-house capability enhancements, both at the infrastructure level and knowledge/design based upgradations, the shipyard is fully geared up to take up construction of high-end platforms including hovercrafts, ASW shallow water crafts and specialised land and sea based training simulators.
MCMV Project: In response to GoI 'Make in India' programme announced in September 2014, GSL had proposed to take up construction of all MCMVs indigenously in October 2014, against earlier decision of the Ministry of Defence (MoD), to procure two ships from abroad. MoD/DAC has cleared construction of all 12 MCMVs at GSL, in February 2015, in accordance to GSL proposal, which was the first major 'Make in India' project cleared by the government, Rear Admiral Shekhar Mital added.
According to the mandate of MoD/DAC, the shipyard has rapidly moved ahead to create capabilities on various fronts so as to start construction of the mega MCMV project, as per plan by mid-2018. Towards this, transfer of technology (ToT) collaboration with foreign shipyard for making these highend MCMV ships indigenously will be finalised shortly. This will provide new shipbuilding capability to Indian shipyards. Further, the tender for weapons/sensors is also expected to be floated by April 2016. The ships will have state-of-the-art ASW weapons and sensors, MCM Suite, which will open new vistas of capability for GSL and Indian industry. In preparation to execute MCMV project, GSL has undertaken a massive infrastructure upgradation from 2009 to 2016, involving CAPEX of 700 crore. Further, projects worth another 650 crore, are underway, so as to commence the construction on MCMV project from mid-2018 onwards. Skill development and supply chain management for maximum indigenisation is also being pursued vigorously. With the above diverse activities being pursued on multiple fronts, the yard is gearing up to execute the MCMV project as envisaged by MoD, Rear Admiral Shekhar Mital mentioned.
In conclusion, he said that today's success, toil and 'determination to succeed' of our workforce is a prelude to the next chapter in our glorious journey ahead. It is also a direct result of the benign and proactive policies of the GoI/MoD and support of Government of Goa. GSL is confidently marching ahead with the promise to serve the nation with higher indigenous shipbuilding capabilities to meet the needs of our armed forces.