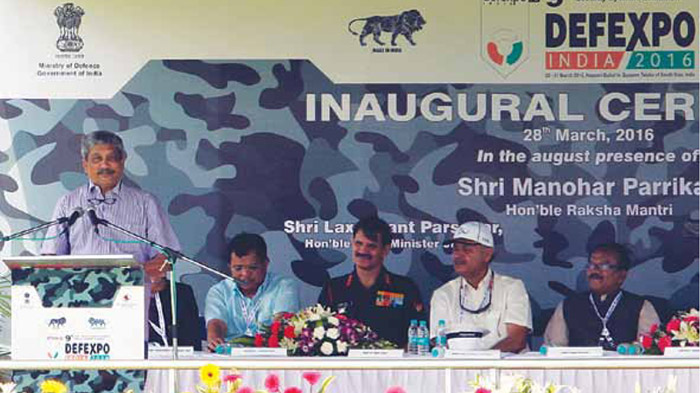 Defence Minister Manohar Parrikar inaugurates the Defexpo 2016 on March 28, 2016. Also seen are Chief of the Army Staff General Dalbir Singh, Minister of State for Defence Rao Inderjit Singh and Chief Minister of Goa Laxmikant Parsekar.
Defexpo biggest draw
1,055 companies
Defence Procurement Procedure updated
Quitol in Goa may be back of beyond. But today when Defexpo 2016, the most definite land, naval and homeland security exhibition, was inaugurated in Quitol, it signaled to the nation that there is so much space for development in India and it can happen anywhere, not just in the big cities.
The ninth edition of Defexpo 2016 has attracted a record number of participants reflecting industry sentiments to India's march towards indigenisation, development and an economic powerhouse. This edition has attracted 1,055 exhibitors, up from 625 in the last edition held at Pragati Maidan in New Delhi.
Inaugurating Defexpo 2016, the Minister of Defence, Manohar Parrikar, said; "The huge number of exhibitors is encouraging. Maybe Goa has something to do with it or may be 'Make in India' initiative has something to do with it." He gave a hint that the successive editions may be held in Goa and asked the Chief Minister of Goa to look into aspects such as road widening, etc.
Domestic and export markets
Parrikar announced that the Defence Procurement Procedure (DPP) had been tweaked and the latest updates had been put up on the Ministry of Defence's website. "This will boost the agenda of 'Make in India'." It will create a defence industry network not just for domestic consumption but also exports. Similarly, there were issues related to offsets which would be tackled in a few months, all to create a conducive defence industrial base.
Defence Procurement Procedure updated

Defence Minister Manohar Parrikar today announced that the Defence Procurement Procedure 2016 (DPP) had been tweaked and the same had been uploaded on the MoD website.

It stated that the Defence Procurement Procedure 2016 would be in supersession of Defence Procurement Procedure 2013, and will come into effect from April 1, 2016. DPP 2016 will be applicable to all AoNs (acceptance of necessity) granted thereafter from the date it comes to effect, except in cases where specific approval has been granted by the Raksha Mantri for AoNs to be processed under earlier versions of DPP. However, all cases where request for proposal (RFPs) have already been issued under earlier versions of DPP would continue to be processed under such earlier versions. The cases for which AoNs have been granted under earlier versions of DPP, but RFPs have not been issued up to April 1, 2016, will be processed under the earlier versions of DPP concerned; in case the SHQ concerned wants to migrate any such case under DPP 2016, approval of the Defence Acquisition Council (DAC) needs to be sought. The changes are listed out in the document which also includes procurement procedure for categories under 'Buy', and 'Buy and Make' Schemes. The comprehensive changes can be accessed on the link: http://www.mod.nic.in/writereaddata/DPP-2016.pdf
He said a new category had been introduced – 'India's Design and Development Manufacturing' – which would encourage design and development within the country. As regards foreign direct investment (FDI), he said it was at present 49 per cent and the government was willing to consider higher percentage wherever necessary. The government already had deregistered 66 per cent of the items from the export list and had facilitated online processing of export of military stores. He mentioned that 'Startup India' can be an important part of defence production.
Robust industrial base required
The Minister of State for Defence, Rao Inderjit Singh, said though there were teething problems in organising the event outside Delhi, the event was opening up the sector across the country. He said India needed to create a robust defence industrial base, to defend its frontiers like all other developed countries had. India is still considered an agrarian economy, but in the last 70 years a robust manufacturing ecosystem was coming up. It was imperative to design, develop and manufacture in India for which initially may require capital from overseas, but hoped in future we could source from within. A new work model for 'Make in India' is essential not only in non-defence but also defence sectors.
Goa creates investment opportunities
The Chief Minister of Goa, Laxmikant Parsekar, said the state government had created an Investment Promotion Board to push investments in various sectors and defence and aerospace was certainly on the radar. Though Goa may be a land known for tourism, it was becoming an industrial growth centre.
The Secretary of Defence Production, Ashok Kumar Gupta, in his welcome address mentioned that this edition had attracted 1,055 companies compared to 624 in the previous edition and the net exhibition area was up from 27,515 sq. m. to 40,725 sq. m, an increase of 48 per cent. The gross area of exhibition has increased over threefolds to 1,50,000 sq. m. against 45,000 sq. m. in 2014.
India is among a handful of countries in the world with indigenous capabilities in the defence fields such as multi-level strategic deterrence, ballistic missile defence, nuclear powered submarines, main battle tanks, stealth destroyers, aircraft carriers and fourth-generation fighter aircraft. With the changes in government policies on defence acquisition and 'Make in India' campaign, considerable impetus is being given to indigenisation in the defence sector.
Exhibition growing from strength to strength
The exhibition is showcasing India's capabilities in land, naval and security systems as well as its emergence as an attractive destination for investment in defence sector. The event provides a platform for forging alliances and joint ventures in the defence industry. The event also provides an excellent opportunity to the Indian defence public sector undertakings (DPSUs), private sector and other defence related industries to demonstrate their capability to design, develop and deliver a wide range of military and civil products/services.
As a clear indicator of India's growing prominence and stature internationally; this year's exhibition is the largest Defexpo held till to date. In all, over 1,000 companies, both foreign and Indian, are taking part in the exhibition this year, which is over one-and-a-half times in number of participants in Defexpo 2014. Remarkably, with a total of 510 companies, participation by Indian companies has doubled since 2014 which saw a participation by 256 companies. A total number of 490 foreign companies are participating this year against 368 in Defexpo 2014.
Around 950 delegations against 511 in 2014 are expected to visit the exhibition this year providing great synergy in business to business (B2B) activities during the short span of four days. The exhibition will thus provide an excellent platform to enhance growth in the sector in the coming years. About 204 official delegations from 44 countries and around 750 non-official business delegations are attending the show.
On the sidelines of the exhibition, seminars will provide a platform to showcase developments and opportunities in the defence sector. The topics of seminars being conducted on March 29 and 30 are: Advances in Shipbuilding Technology, 'Make in India' for Defence Sector, India-Korea Defence Cooperation, Modernisation Programme of Indian Army and Challenges and Opportunities of Defence Offset.
The inaugural ceremony also saw live demonstrations of military equipment including Main Battle Tank Arjun Mk I and II, various types of heavy bridging equipment, wheeled armoured vehicle, Sarang aerobatic team and Naval LCA. MBT Arjun Mk II and wheeled armoured vehicle were being displayed for the first time in any exhibition.
The function was also attended by the Union Minister for Railways Suresh Prabhu, Union Minister of State for Ayush Shripad Naik, Chief of the Army Staff General Dalbir Singh, Chief of the Naval Staff Admiral R.K. Dhowan, Defence Secretary G. Mohan Kumar, Secretary (Defence Production) A.K. Gupta and senior officials from the three Services and Ministry of Defence, Government of Goa as well as from the participating countries.