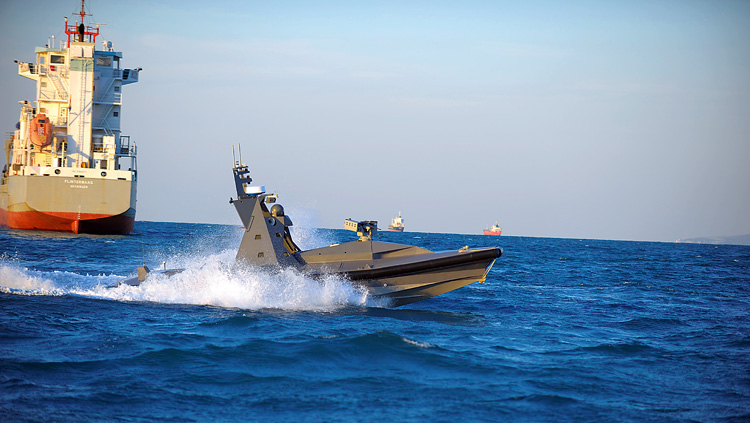 PROTECTOR
Strategic assets such as oil and gas pipelines and rigs, power stations, ports, and harbours, are vulnerable to terrorist and criminal threats.
Such infrastructures have a high economic and political value, and the low probability of detection of threats, due to the relative anonymity and the sensitive geographical location of these the infrastructure environments, makes them an attractive target.
The potential immediate and long-term economic, environmental and political consequences that can emerge from an attack on such infrastructure, and the potentially high cost in human lives, requires governments to forge an holistic approach, which will address the complexities of such challenges.
OIL WELLS
Many oil wells are located in rural areas adjacent to roads, and in some cases near a village or other urban area. One can access them easily through their surrounding roads, making them highly vulnerable to sabotage and practically impossible to secure.
PIPELINES AND PUMPING STATIONS
The pipeline system is an area of great concern to oil companies and the global economy.
Terrorist groups represent the primary threat to the pipeline network. Single-issue extremist groups, people from within the branches and mentally unstable individuals can also be a threat to the system.
The most common method of attack of pipeline infrastructure in the world is the improvised explosive device(IED). Large sections of pipeline without supervision are difficult to protect.
Rafael Advanced Defense Systems is well-versed in complex large-scale integration and development of solutions for critical asset protection programmes, both for Israel and for various countries around the world.
The core element of Rafael's solution is its IMILITE command, control, communication, computers and intelligence (C4I) system, which keeps all security elements - from military personnel on the ground to unmanned airborne vehicles (UAVs) in the air - connected, informed and synchronised in real-time.
Rafael's solution supports connectivity with customer-defined sensors. Rafael offers a solution based on three major security foundations:
Robust communication infrastructure and systems (triple-way: voice, video and data)
Command, control, communication, computer and intelligence (C4I) capability (IMILITE)
Stationary, mobile and airborne surveillance systems Rafael's security solutions incorporate technological building blocks which supplement and complement each other's capabilities.
Ground-based sensors (stationary and mobile), including:

Terra-Sonic: A passive warning and detection system designed to alert to possible threats on or in the vicinity of the pipeline
Toplite: An advanced day/night electro-optic system (EOS) mounted on a mast to provide large area continuous surveillance.
Stalker: A multi-sensor system mounted on a customer-furnished vehicle for efficient surveillance, based on an advanced day/night electro-optic pod and radar, mounted on an electrically-operated telescopic mast.
SpotLite-P: Tripod-mounted system for the detection of small arms fire sources.

Airborne Sensors, including:

RecceLite: A self-contained self-cooled multi-sensor tactical reconnaissance system, consisting of an airborne pod based on the litening targeting and navigation pod and a ground exploitation station.
Recce-U: A self-contained, multi-sensor ISR system (based on the RecceLite Tactical Reconnaissance Pod). In addition to the persistant ISR payload, the system also comprises of a Ground Data Link Station (GDLS) and Ground Exploitation Station (GES).
Unmanned Airborne Vehicle (UAV): A tactical surveillance system, which consists of a stabilised day/ night electro-optical payload mounted on a customer-furnished UAV

Positioning Devices, including:

Global Positioning System (GPS): All deployable IMILITE systems, mobile sensors and IMILITE-ARVTs will be provided with a GPS.

C4I Layer, including:

IMILITE: Situational Awareness Command and Control Centres that act as the command and control operational hubs.
Mobile and deployable IMILITE Surveillance, Command and Control Systems: Installed in a vehicle that can be deployed to strategic locations to closely manage and control specific events and operations.
IMILITE-ARVT: Vehicle mounted mobile Advanced Real-time Video Terminal that allows field forces to view video and data from any selected source. The video is transmitted from the IMILITE centers to the IMILITE-ARVT.

Communication Layer:

A communication system that is used to connect all the sensors and to allow video and data transfer between the IMILITE centres and the ground forces. This could be discussed together with your team.
The system is modular, deploys according to terrain cells that are defined jointly with the customer, and are interconnected to a national Command and Control Centre.
Continuous video surveillance of selected areas and points of interest using the stationary video surveillance systems. Video and data from the stationary video systems are transmitted to the IMILITE centres through the communication network.
Deployment of mobile video surveillance sensors (Stalker, Airborne Toplite) to cover specific events and operations. The mobile sensors are deployed in optimal locations to cover the event/operation from various angles. They can be quickly relocated depending on the scenario and operational needs. Stalkers are suitable for ground surveillance and a quick mobile response.
Display of all video sources at the IMILITE Situational Awareness Command and Control Centres, for the commanders and decision-makers.
Display of selected video sources in the Mobile IMILITE system for efficient control of local and specific operations.
Display of field forces GPS-located coordinates at the IMILITE center and dissemination of the location data to the mobile IMILITE systems and to other field forces.
Dissemination of video, situational data and command and control directives to field forces using the communication system. Video and data are displayed on the IMILITE-ARVTs using geographical maps, thus conveying the situational awareness to the field forces in the most efficient way.
Full voice and data interoperability between the command and control Centres, field forces and other agencies using the C4I-connect system.
Export or streaming of selected video sources and textual data to a National Command and Control Centre. This centre will disseminate information further, e.g., to other law enforcement units, government agencies and the media, as may be required, for expanded response and decision-making purposes.

OTHER STRATEGIC SITES

In addition to critical infrastructure, there is a growing need to provide protection to a variety of other sensitive civilian facilities, such as government sites, airports, hotels, tourist attractions, sport facilities, etc. Such requirements include:

Observation and surveillance of potentially violent zones (e.g., kidnapping, theft, violence) and main roads
Quick response to criminal activity
Crowd control
Long-term routine security
The solution must be able to deter the threat, detect, identify and manage it, and finally, provide the force with all the relevant information that, if necessary, will allow it to eliminate the threat effectively and swiftly, while minimising the potential risk to the engaging force