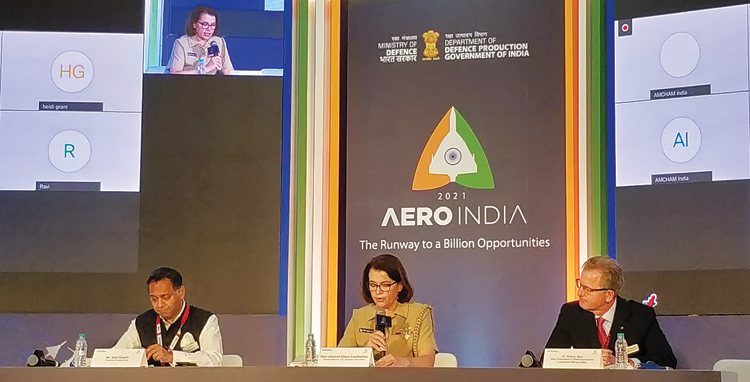 REAR ADMIRAL EILEEN LAUBACHER, DEFENCE ATTACHE, US EMBASSY, NEW DELHI SPEAKING ABOUT INDIA-US DEFENCE PARTNERSHIP
Showcasing its strong commitment to strengthen the military partnership between India and the United States, the US Embassy organised the US-India Defence Partnership Seminar during Aero India 2021. The seminar witnessed addresses from multiple speakers representing different industries from both the countries, talking about the current and future of the bilateral defence partnership.
Rear Admiral Eileen Laubacher, Defence Attache, US Embassy, New Delhi appreciated the Government of India for being futuristic and said that the country is emerging as the global aerospace power. She highlighted three dimensions to the growing partnership between India and the US.
First being the growing defence trade between the two countries and the US remaining India's top export market;
Second is the push of an ambitious agenda of the military to military engagement from joint exercises to subject matter exchanges and everything in between.
The third dimension is that we have made tremendous progress towards implementing the enabling defence framework that was designed in recent years
KEYNOTE ADDRESS BY V.L. KANTHA RAO, DIRECTOR GENERAL (ACQUISITIONS), MINISTRY OF DEFENCE, INDIA
"We are working in full swing to resume our full-service exercises in 2021 beginning with our annual army exercise next week," she said.
V.L. Kantha Rao, Director General (Acquisitions), Ministry of Defence, India, also took note of the current partnership between the two nations as strong and the future partnership emerging to be stronger. "In the last six-seven years, we have done business worth $9 billion and that is a lot of work done with the US government and the OEMs of USA. There are many more opportunities in the offing. We certainly have a robust defence mechanism with a lot of systems in place and so many platforms for engagement between the two countries," he said.
However, Rao also had a request to make to the US side. "We have had the status of major defence partner for some time and have reached the level of maturity, now we should be at a higher level than that and I am looking forward to that kind of announcement. I would also like to add here that we should collaborate on design, as that is more fundamental and will strengthen the partnership in a much better way. So I hope for better terms and conditions when we sign further deals with the US and am certain that we can make this partnership stronger with mutual initiatives."
Among the highlights of the show, from the US Air Force, a B-1B Lancer heavy bomber performed a "fly-by" in the inauguration of the show.