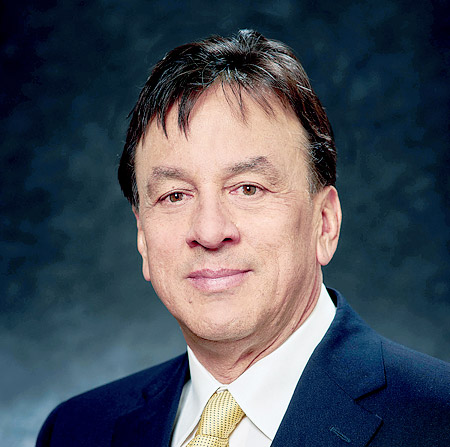 SP's ShowNews (SP's): Can you briefly recount the history and profile of L3's Aviation Products sector?
Krishen Ganase (Ganase): Founded in 1997 as L-3 Communications, L3 Technologies is one of the world's top 10 aerospace and defence companies and is a leading provider of a broad range of communication and electronic systems and products used on military, General Aviation (GA), homeland security and commercial platforms. L3 Aviation Products & Security (L3 APS), a sector within the company's Electronic Systems business segment, provides leading-edge avionics and support that enable enhanced flight safety, efficiency and mission effectiveness for multiple markets and platforms.
SP's: Can you catalogue the range of technologies and services that the company provides, both in the military and commercial aviation segments across the world?
Ganase: L3 APS supplies a broad range of avionics technologies, such as voice and flight data recorders, collision avoidance systems, navigation products, airborne flight displays and mission processors. Offerings include advanced next-generation avionics solutions and services for air transport, general and business aviation, and military aircraft, including helicopters. L3 APS also provides MRO and integrated performance-based logistics for commercial and military systems.
Through our Traffic Alert and Collision Avoidance System (TCAS) and transponder product and software portfolio, L3 APS technology is enabling implementation of ICAO's Global Air Navigation Plan (GANP). We also manufacture the advanced Large Area Cockpit Displays on the F-35 Joint Strike Fighter, as well as displays on the C-130J. L3 APS's independent standby flight instruments are on many civil and military aircraft.
In General Aviation, the groundbreaking Lynx® NGT-9000 transponder system enables full ADS-B mandate compliance while providing seamless air navigation coverage and enhanced safety in flight operations. Lynx brings commercial airliner levels of safety and situational awareness features to GA operators.
SP's: You own a number of brands. What has been the vision behind this?
Ganase: Our vision has been to provide our customers with high-performing products and support, delivering best-in-value solutions while meeting a vast range of customer operational requirements. The L3 APS brand and product line also reflect our core company values of operational excellence, teamwork and the highest ethical standards. We are further defined by world-class talent and an unwavering commitment to value and innovation. It all adds up to a strong foundation for delivering products that provide increased functionality, enhanced efficiency and lower cost of ownership over the product life cycle.
SP's: What are the new products that L3 APS is currently developing or is planning to launch in the near future?
Ganase: L3 APS continues to innovate to improve flight safety, efficiency and effectiveness. Our legacy is innovation and technology leadership, and we continue to introduce new solutions for all aircraft segments. Our latest solutions include the Lynx NGT-9000, which brings commercial airliner-class safety and surveillance features to GA; significantly lighter weight, high-resolution Active Matrix LCD displays; and next-generation transponders that are ADS-B compliant to DO-260B standards.
SP's: What kind of future technologies are you currently investing in?
Ganase: We are focused on optimising and enhancing our products, leading to higher value and peak performance at a lower cost of ownership for today's operators. We concentrate our research and development on advanced technologies that can enhance mission effectiveness, safety and efficiency. Next-generation data fusion displays — which L3 currently provides to the world's most advanced fighter programme — remain a key part of our innovation strategy. And, we now have successfully developed a derivative display solution for global customers at a very competitive cost. We believe that this will drive the next generation of cockpit displays and upgrades across the market.
In the safety and surveillance portfolio, we will continue to provide software and hardware products, delivering certified solutions that can be applied in conjunction with ICAO's 15-year GANP. We are making excellent progress on solutions that leverage ADS-B positioning and Iridium satellite-based data link technology to develop a new generation of products and applications that will support NextGen aircraft tracking capability, navigation and surveillance, and safety.
SP's: While your products are widely employed on manned aircraft across the globe, are there any products the company has developed or is developing for unmanned platforms?
Ganase: We have several solutions for UAVs. L3 APS safety and surveillance solutions include TCAS products, aircraft information reporting and tracking equipment, and other sense and avoid avionics that help ensure the interoperability of UAVs with manned aircraft. As another example, our sister company, L3 WESCAM, provides imaging and targeting systems that can be found on more than 100 different types of platforms, including UAVs and aerostats.
SP's: Can you please describe the company's involvement with Indian military aviation and also with the Indian aerospace industry?
Ganase: L3 APS has been supporting the Indian aerospace industry for more than a decade. Our support to the Hindustan Aeronautics Limited (HAL) dates to 2003, when we began supplying Flight Data Recorders (FDRs) for the Advanced Light Helicopter and Cheetah/Chetal helicopters. Our relationship with HAL has grown, and now we provide TCAS-II systems for the HAL Do-228s and Advanced Light Helicopters, and are well into the integration phase of our Tactical Airborne Navigation System (TACAN+) on the new Light Utility Helicopter (LUH) platform.
Several aircraft flying with the Indian armed forces have L3 APS avionics, including the cockpit displays on C-130Js, TCAS and flight data recorders on Boeing P8-Is, TACAN+ and FDRs on Pilatus PC-7s, and TCAS on IL-76/78s. Recognizing that life-cycle support is a critical requirement for our Indian military customers, L3 APS established a repair and overhaul centre in Bengaluru, bringing OEM expertise to India and significantly reducing turnaround times for repairs.
SP's: While your name does suggest your offers are more aviation-centric, do you also have any solutions for land forces and naval forces? If so, can you elaborate a little?
Ganase: L3 APS focuses on both military and civil aviation technologies. L3 divisions also design and develop land and marine systems, as well as a broad range of sensor and warfighting technologies. L3 has developed a relationship as a trusted partner to the Indian military and has been supporting indigenisation efforts for more than a decade. As an example, L3's marine division has been working with Indian Navy indigenous shipbuilding projects on the manufacture and integration of ship control systems for the past 15 years, designing, developing and manufacturing these systems out of L3's Bengaluru facility.
SP's: How relevant or important is the Indian market for your company, especially in view of the 'Make in India' programme of the Indian government?
Ganase: L3 APS is committed to partnering with the government of India on the 'Make in India' programme. In addition to opening a Part 145 repair and overhaul facility in Bengaluru, some of our next-generation global products are partially built in India. And, we are collaborating on manufacturing electronic circuit assemblies and the design of embedded avionics for future products. L3 APS is on the path to expand in India to meet demand, including solutions that will meet new airworthiness mandates.
SP's: Has the company established any joint ventures or partnerships with companies in India in the public as well as the private sector?
Ganase: L3 APS has subcontract and collaborative relationships with several Indian companies to design key avionics systems and subsystems to manufacture electronics and also to develop and validate embedded software.
SP's: How is your relationship with HAL?
Ganase: L3 APS is proud to have a long-standing and growing relationship with HAL. We are committed to supporting HAL's mission and objectives and strive to support HAL as a strategic avionics partner, delivering products and life-cycle services that provide the best value and optimized operational availability for the end customer.
SP's: What is the business strategy of the company in India for growth in the long term as well as the company's plans to expand its footprint in India?
Ganase: L3 APS has invested in our India operations over the past five years, and we remain committed to our local employees and to the support of Indian aerospace and defence. Having established an L3 business development and customer support team, supply chain and engineering oversight, as well as a sustainment facility, we are focused on continued growth. We also continue to train and expand the knowledge and capability of our local teams. We are reviewing further expansion opportunities, taking into consideration the government of India's increased foreign direct investment parameters and the evolution of India's policy framework and rules, among other factors.
SP's: Will the recent upgrade of India's status as a major defence partner of the US have any implications for the business prospects of the company in the future?
Ganase: We think this preferred status is mutually advantageous for L3 APS, our growing Indian supplier network and our customers in India. That said, market dynamics and other factors will continue to shape our ability to continue expanding and growing in India.