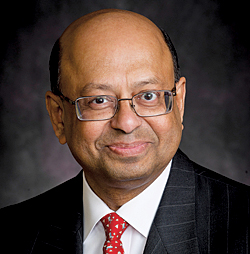 Boeing which has forecast 1,850 new airplanes valued at $265 billion for India from now to 2035 will revisit the forecast to factor in the requirement of regional jets in the changed scenario of the government laying emphasis on regional connectivity.
Stating this at the press conference, Dinesh Keskar, Senior Vice President, Sales, Asia Pacific and India, Boeing, said Boeing would wait and watch how the regional connectivity scheme (RCS) panned out. While agreeing that Regional Connectivity Scheme (RCS) would require less than 130 seat aircraft, he said the regional jets and turboprops would first create the market in the second and tertiary markets. In three to five years time, these routes would mature to take in single aisle aircraft.
Presently, Boeing states that of the 1,850 new airplanes, single aisle would account for 84 per cent; wide body 15 per cent and regional jets less than one per cent. "We want to be the preferred supplier for wide-body aircraft in India."
"The major factors we watch — the exchange rate, fuel price and the profitability of the airlines — are still favorable and we remain confident in the strong growth of India's commercial aviation sector. We see the potential for travel growth in 2017 to continue to be high in India and we expect more than 100 million passengers to fly domestically this year."
Fuel prices, Keskar said, had gone up by 50 per cent since last February and the lowering of the exchange rate with the US dollar, had brought about 39 per cent reduction in break-even fare over the last three years. The average fare is decreasing and Boeing constantly watches these trends as it helps in creating or developing markets. The fuel price in India $2.93 per gallon as against $1.44 per gallon which the US carriers pay.