The Global CEOs Conclave at the Aero India 2017 provided a platform for global CEOs to understand the measures taken by the Government of Andhra Pradesh to provide an enabling ecosystem for aerospace and defence sector.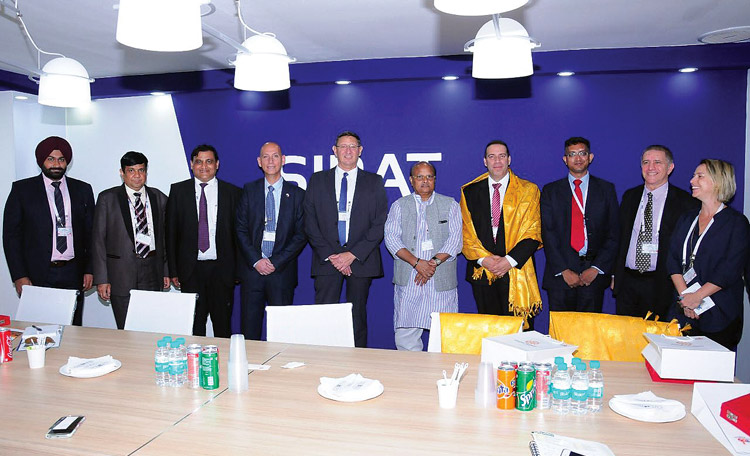 The Andhra Pradesh Economic Development Board on February 14 organised the 'Global CEOs Conclave on Aerospace and Defence Manufacturing Opportunities in Andhra Pradesh' under the 'Make in India' Initiative at Aero India. Over 50 CEOs attended the discussion session with Finance Minister of Andhra Pradesh Yanamala Ramakrishnudu, Union Minister for Civil Aviation Ashok Gajapathi Raju and Krishna Kishore, Chief Executive Officer, Economic Development Board, Andhra Pradesh, besides Colonel K.V. Kuber, independent consultant on aerospace and defence and Member — committee of experts on DPP — 2013, Ashok Kumar Gupta, Secretary, Defence Production and Dr Satheesh Reddy, Scientific Advisor to Defence Minister.
Colonel Kuber said that India was on the verge of becoming the third largest defence spending nation by 2018. Over $23.5 billion worth FDI was signed with 119 licences inssued in 2014-16 and that soon defence exports would amount to $1 billion.
Dr Satheesh Reddy focused on the need for a technology revolution and on bridging the gaps in technology and infrastructure capabilities. Dr Reddy also mentioned that the industry base in India was sufficiently established as state-of-the-art missile systems, avionics, anti-ballistic missile systems and complex systems like AWACS are being developed indigenously.
The presentation on 'Opportunities for Aerospace and Defence Companies in Andhra Pradesh' was delivered by J. Krishna Kishore who emphasised the proactive readiness of Andhra Pradesh in providing an enabling ecosystem for a robust aerospace and defence sector.
The Andhra Pradesh Economic Development Board also signed a letter of intent (LoI) with DCNS India Private Limited for industrialisation of systems and platforms for Ocean Thermal Energy Conversion (OTEC) offshore power plant intended for Andaman and Nicobar Islands. A production facility for the OTEC power plant will be established at a district in coastal Andhra Pradesh, preferably along the Visakhapatnam coastline.
Ramakrishnanudu said that Andhra Pradesh is about to be transformed into a well-connected landscape of thriving economic activity. The Mega Aerotropolis in Bhogapuram will see maintenance repair overhaul (MRO) centre come up soon to serve leading global and Indian airlines. In addition, six upcoming and three brownfield expansion airports are on the anvil. The Government of Andhra Pradesh is working towards establishing aerospace and defence parks in Ananthapur, Chittoor and Nellore districts.
A delegation from Andhra Pradesh led by Ramakrishnudu met Daniel Carmon, Ambassador of Israel to India, Brig Gen (Retd), Director, SIBAT and other senior officials to discuss potential cooperation in technology between Israel and Andhra Pradesh.