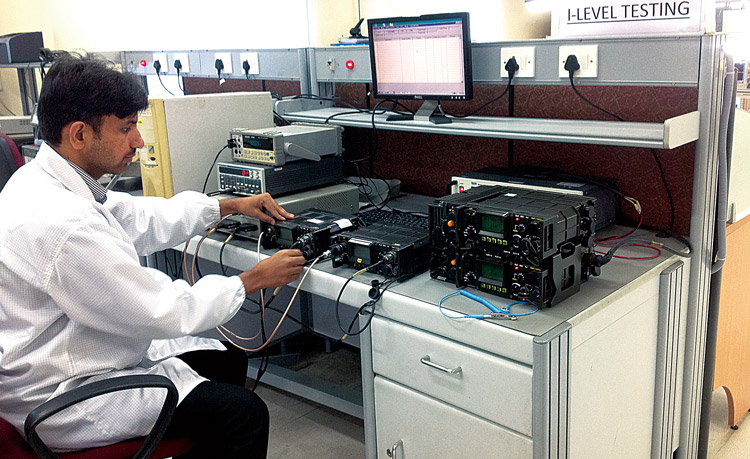 Major focus at Alpha Design Technologies Private Limited, a Bengaluru based firm specialising in R&D and manufacture defence and space related equipment and system, is regarding upgradation of older generation defence and space system, newer products and exportoriented products.
UPGRADED EQUIPMENT AND SYSTEMS
Mi-17 Helicopter upgrade: The Government of India has recently cleared this programme for upgrading 90 Mi-17 Helicopter (old versions) on Elbit Israel. Alpha is the major Offset partner and will be manufacturing all key sub-units at its Bengaluru factory such as smart displays, new cockpit, transponder, digital voice recorder (DVR), missile launch detection systems (MILDS), cables, brackets, etc.
A model of Mi-17 Helicopter with above modifications/upgradations is being displayed at Alpha's Stall.
Infantry Combat Vehicle (ICV) — BMP-2 Upgradation: These ICVs are 10 to 15 years old and they do not have modern fire control systems capable of being used during night operations. Alpha has manufactured and supplied 900 + systems which are being fitted on to BMPs at field. This upgrade with thermal imager (TI) based fire control systems and Commanders TI sight are also fitted on a dummy BMP-2 and demonstrated in the stall, which meets all the requirements of the Army for their BMP-2 upgrade programme indigenously.
Cheetah helicopter upgrade: Some 69 Cheetah helicopters used by Army Aviation Corps did not have protection from shoulder-fired missiles. This is now obviated by fitment of MILDS manufactured by Alpha and being fitted on Cheetah at forward areas. These are shown on a dummy Cheetah model at the stall.
Smart City demo: Alpha is concentrating its efforts in developing solutions for the Smart City project to cater for the following important and critical aspects:
Active surveillance: It has 24 hours, 365 days, continuous surveillance through series of high-end day and night surveillance cameras, fully networked.
Target recognition: Any wanted/selected person can be traced from the time of his/her arrival to the time of his departure from the area of surveillance by recognising his/her stored features, comparison, recognition and tracing his/her movement by handing over the same from one surveillance camera to the other. Similarly, any vehicle along with recognition of its number plate is detected.
Networking and high-end encryption: These are in built and coordinated to be observed/checked/verified from central observation post.
Upgrade for remote control of long range reconnaissance, recognition and observation system (LORROS) and hand-held thermal imager (HHTI) sight: The Deputy Chief of Army Staff had organised a visit of some of the heads of defence private sector industries to forward areas in Kashmir six months back. Colonel Shankar (Retd) was the head of this delegation. During the visit to forward-most areas in Uri/Poonch/ Baramulla areas, the Infantry Commanders and troops had desired remote control and display of LORROS and HHTI sights up to 5 to 10 km distance through radio communications, so that LORROS & HHTI could be controlled remotely in pan/tilt/focus and also display of areas under observation could be seen at Commander's forward bunkers. Based on this requirement Alpha's young engineers have developed the system and these are displayed in Alpha's Stall. This will provide a great advantage to forward troops. The systems will now be offered to Northern Command and after field trials, it is expected to be procured by Army/BSF in large quantities from Alpha.