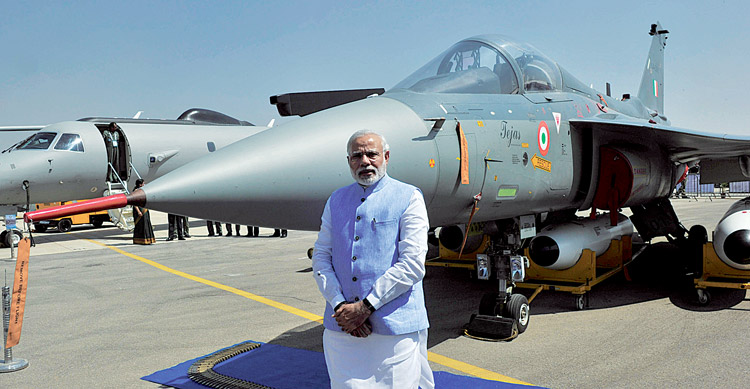 Prime Minister Narendra Modi at the Aero India 2015 Air Show
With a massive electoral mandate, Narendra Modi was sworn-in as the Prime Minister on May 26, 2014. Coming to power on a development plank, the Bharatiya Janata Partyled National Democratic Alliance (NDA) stepped on the gas, accelerating the pace of economic and social reforms, creating an ecosystem for economic development, and infusing enormous investor-confidence. This has pervaded almost all the verticals. Aerospace and defence have taken centre-stage in the transformation process of the nation, thanks primarily to the Prime Minister Modi who has been aggressive in pushing ahead the reforms process, the decision-making process and also the acquisition methods. He has been single-minded and determined to catapult the country into a major economic power in which defence and aerospace are going to be pillars.
One of the first major defence acquisition decisions that Modi took in the very first year of his term was 'disruptive' in nature. While the previous UPA government was dragging its feet on the 'Mother of all Deals' — to purchase 126 medium multi-role combat aircraft (MMRCA), the Prime Minister while on a visit to France made a surprise announcement to buy 36 Rafale fighter jets from France in a flyaway condition at a cost of $8.8 billion. The first of the Rafales is expected by September 2019 and all jet fighters will be at the disposal of the Indian Air Force within six years. It took 16 years for an Indian Government to fulfil the commitment of the Indian Air Force which has a much higher requirement of combat aircraft, if it needs to scale up its squadron strength.
That was the beginning of firm decision-making. Importantly, along with acquisition, the Modi government realised that unless reforms were in place, nothing much would change. At regular intervals, the government is coming up with policy changes in aerospace and defence sectors, the positive impact of which will be felt in the short and medium term.
Here are some of the highpoints in aerospace and defence in the almost three years of Prime Minister Narendra Modi governance:
In 2014-15
Defence
Foreign equity cap in defence was raised from 26 to 49 per cent; 74 per cent in case of technology transfer.
On September 25, 2014, Modi's topmost initiative — 'Make in India' was launched to encourage national and multinational companies to manufacture in India to cater to the world market.
Aerospace
Announcement of draft National Civil Aviation Policy to create a vibrant sector.
In 2015-16
Defence
36 Rafale jets: On April 10, 2015, Modi on a visit to France announces purchase of 36 Rafale fighter jets, as the decision on the MMRCA deal was getting protracted (later it was scrapped).
Record 56 defence manufacturing permits: To accelerate domestic defence industry growth, the government accorded 56 permits to private sector entities, which was more than the 47 licences its predecessor UPA had granted in the preceding three years.
145 BAE's M777 ultra-light howitzers: The Defence Acquisition Council approved purchase of 145 BAE's M777 ultra-light howitzers at a cost of 2,900 crore.
Akash Weapon System: Indigenously developed supersonic short range surface-to-air missile, inducted into the Indian Army on May 5, 2015.
Apache helicopters: In September, a contract was signed for procurement of AH-64E Apache attack helicopters with deliveries expected from July 2019.
Chinook CH-47F helicopters: Contract signed for procurement of Chinook CH-47F (I) heavy-lift helicopters.
'One Rank, One Pension': After a gap of more than 40 years, the much awaited 'One Rank, One Pension' (OROP) scheme was announced on November 7.
Aerospace
Foreign direct investment limit increased: FDI by foreign airlines increased to 49 per cent in scheduled air transport service/domestic scheduled passenger airline/regional air transport service, up to 100 per cent in non-scheduled air transport services and 100 per cent for helicopter services/seaplane service.
Digitisation of Civil Aviation Ministry: The Modi government embarked on a big digital push within and outside the government. For internal governance, the Civil Aviation Ministry saw the implementation of e-office where all the wings under the ministry like the Directorate General of Civil Aviation (DGCA), Bureau of Civil Aviation Security (BCAS) and Indira Gandhi Rashtriya Uran Akademi (IGRUA) came under a single URL of ca.eoffice.gov.in where all new files are generated electronically. This is a first indeed.
In 2016-17
Defence
Indian-Russia mega deals: India and Russia signed several major agreements, including two key defence deals following a bilateral meeting between Prime Minister Narendra Modi and Russian President Vladimir Putin on the sidelines of the 8th BRICS summit in Goa. The two leaders witnessed the signing of a 39,000-crore defence deal to procure Moscow's most advanced anti-aircraft defence system — S-400 Triumph, which will provide India a ballistic missile shield.
Kamov helicopters: In another key deal that provides a huge push to Modi's 'Make in India' initiative, India will initially import and then manufacture Russian Kamov Ka-226T light utility helicopters.
Stealth frigates: India and Russia will also collaborate in making four state-of-the-art Admiral Grigorovich class (Project 11356) guided-missile stealth frigates.
New Defence Procurement Procedure: The new Defence Procurement Procedure (DPP) 2016 was promulgated for capital procurements on April 1. DPP 2016 has a focus on achieving the 'Make in India' vision by according priority to 'Buy Indian-IDDM' (Indian Designed, Developed and Manufactured) and 'Buy (Indian)' categories.
Rafale deal signed: The much awaited 36 Rafale deal with France was signed on September 23 at a cost of €7.87 billion.
Aerospace
National Civil Aviation Policy (NCAP) announced: In June, the Modi government brought in a radical and transformational policy — the National Civil Aviation Policy. This is the first time since independence that an integrated National Civil Aviation Policy has been put in place, aimed to take flying to the masses by making it affordable and convenient, establish an integrated ecosystem which will lead to significant growth of the civil aviation sector to promote tourism, employment and balanced regional growth, enhance regional connectivity through fiscal support and infrastructure development and enhance ease of doing business through deregulation, simplified procedures and e-governance. The policy is very comprehensive, covering 22 areas of the civil aviation sector.
UDAN launched: In October, as part of NCAP, Modi government launched the Regional Connectivity Scheme (RCS) known as UDAN (Ude Desh ka Aam Naagrik or the common man will fly), that is expected to leapfrog aviation growth to take India to the third spot in global rankings of aviation markets in the near future.
The Prime Minister is laying emphasis on 'Digital India', 'Make in India', 'Start-up India' among other aggressive initiatives which should unleash unparalleled economic growth. While the leadership is moving at supersonic pace, the bureaucracy is weighing it down. It is hoped that the labyrinthine bureaucratic and corrupt machinery will wake up to the aspirations of millions of Indians to make India proud.